Vietnamese dairy firm IDP to milk real estate sector
Thu, August 25, 2022 | 9:10 am GTM+7
International Dairy Products JSC, a Vietnamese dairy company, has spent VND500 billion ($21.3 million) on setting up a real estate consulting and trading company.
The new venture called Green Light Investment JSC has a charter capital of VND500 billion, equivalent to 50 million shares with a par value of VND10,000 ($0.43) per share. With 49.99 million shares, IDP holds a 99.98% stake in Green Light.
The company is headquartered at 217 Nguyen Van Thu street, Da Kao ward, District 1, Ho Chi Minh City.
IDP currently records no subsidiaries, joint ventures or associates in its financial statements, which means Green Light is its only subsidiary and marks the dairy firm's venture into real estate.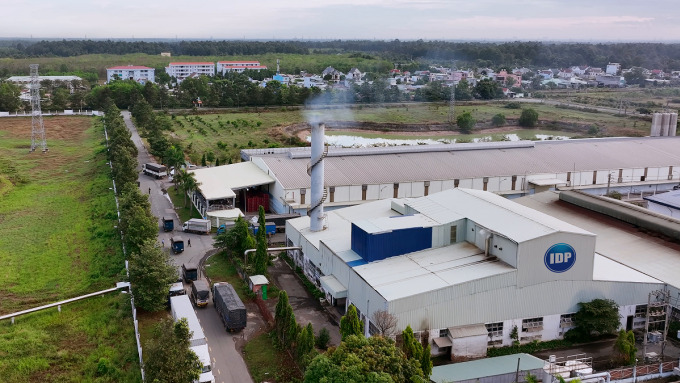 At the end of January, the IDP management board approved an investment project at the Expanded Bau Bang Industrial Park in Dau Tieng district, Binh Duong province.
The project would process milk and dairy products; and produce non-alcoholic beverages and mineral water. It will have a total investment of VND2,800 billion ($119.5 million), of which IDP would contribute VND300 billion ($12.8 million), and borrow VND2,500 billion.
In the second quarter of 2022, IDP recorded a net revenue and after-tax profit of VND1,539 billion ($65.66 million) and VND215.8 billion ($9.21 million), up 23% and down 5% year-on-year, respectively.
In the first half, the company's net revenue and after-tax profit reached $118.8 million and $25.03 million, up 17% and up 11% respectively.
Meanwhile, Vinamilk, Vietnam's largest dairy company, recorded a consolidated revenue and after-tax profit of $1.23 billion and $187 million in the first half, respectively. The figure for Moc Chau Dairy Cattle Breeding JSC, a subsidiary of Vinamilk, is $64.56 million and $7.42 million, respectively.
IDP, established in 2004, possesses dairy brands that are familiar to Vietnamese consumers like LiF, Kun, Bavi and LOF. The company currently owns two large-scale factories in Ba Vi district, Hanoi and Cu Chi district in Ho Chi Minh City.
On the unlisted public company market UPCoM, IDP shares price hit VND155,800 ($6.63) apiece at the closing session on August 24.