Vinamilk sixth among global milk brands
Sat, August 20, 2022 | 11:47 am GTM+7
Vinamilk, Vietnam's largest dairy firm, has a brand value of $2.8 billion, up 18% over 2021, and ranks sixth among the top 10 most valuable milk brands in the world.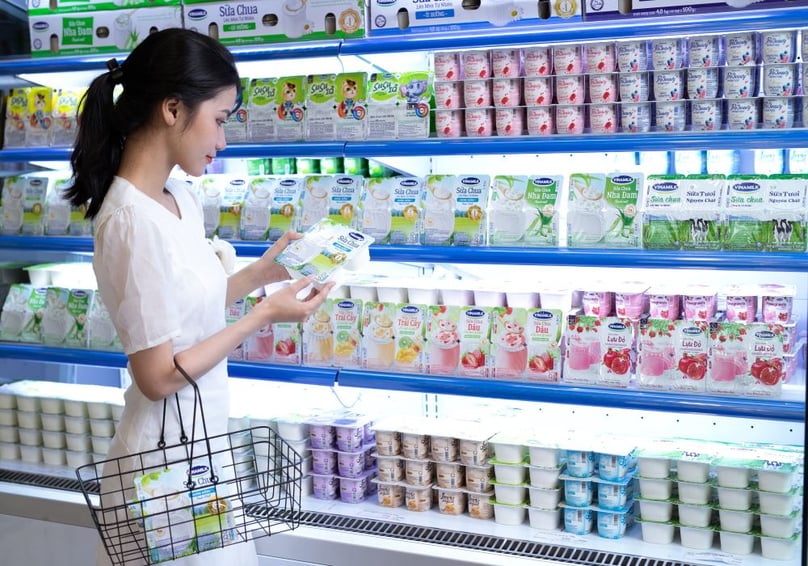 According to the world's leading brand valuation company Brand Finance, the five milk brands ahead of Vinamilk in order are: Yili (China, $10.59 billion); Danone (France, $7.86 billion); Mengniu (China, $5.53 billion); Arla (Denmark, $3.53 billion); and Amul (India, $3.26 billion).
Vinamilk is also placed 24th among the top 100 most valuable and strongest food, dairy and non-alcoholic beverage brands.
For this year's "Food and Beverage" report, the UK-based Brand Finance assessed more than 5,000 brands in 29 sectors in 39 countries, looking at factors like impact of brands, reputation, investment in brands, financial data and market surveys.
According to the "Brand Footprint" 2022 report released July 4 by London-based market research firm Kantar Group, Vinamilk has three outstanding features: the milk brand most chosen by consumers; top 3 producer of fast moving consumer goods (FMCG) most chosen by consumers; and its Ong Tho and Southern Star voted the most chosen brands in the category of sweetened condensed milk.
In 2022, the corporation, in which the state holds a 30% stake, entered Forbes Vietnam's list of 50 best listed companies for the 10th time in a row.
Vinamilk recorded an after-tax profit of VND2,102 billion ($90 million) in the second quarter of 2022, down 26.5% year-on-year, as inflation impacted purchasing power and prices of input materials surged.
The company, listed on the Ho Chi Minh Stock Exchange (HoSE) as VNM, saw profit decline for six quarters in a row.
Its net revenue hit VND14,930 billion ($639 million) in the period, down 5%.
In the first half of the year, the dairy firm's consolidated revenue and after-tax profit reached VND28,808 billion ($1.23 billion) and VND4,386 billion ($187.8 million), almost flat and down 20% compared to the same period last year, respectively.
Last year, Vinamilk invested heavily in the Vietnamese Dairy Dream chain, opening 120 new stores and bringing the total number of stores to nearly 600, according to the company's annual report.
It is currently one of 40 largest dairy companies in the world in terms of revenue with a system of 17 factories and 15 domestic and foreign farms, its website says. Its products are present in 57 countries, with many exported to leading markets like the U.S., Japan and South Korea.
In 2022, Vinamilk has set a revenue target of VND64,000 billion ($2.73 billion). It continues to make new investments including a farm complex in Laos, Milk Paradise in Moc Chau district, Son La province, and a dairy factory in Hung Yen province. It is also cooperating with major partners like Japan's Sojitz Corporation and the Philippines' Del Monte to bolster growth.
At the HoSE's closing session on August 19, Vinamilk's VNM share price was VND74,400 ($3.18).