Waterspout thousands of meters high upturns fish rafts in Dong Nai lake
Sat, September 3, 2022 | 1:35 pm GTM+7
A giant waterspout shot up thousands of meters high in Dong Nai province's Tri An Lake Friday, overturning and damaging many fish rafts.
The People's Committee of Thanh Son commune, Dinh Quan district, said Friday evening that a tornado struck the area, causing damage to some fish farming cages.
At about 4:45 p.m, a powerful tornado sucked water from the lake surface to form a giant water column.
Some witnesses said the waterspout was small and low at first. However, after a while, it swelled to a height of thousands of meters high, connecting from the water surface to a big cloud in the sky. The waterspout also moved closer to the shore, overturning and damaging people's fish raising rafts.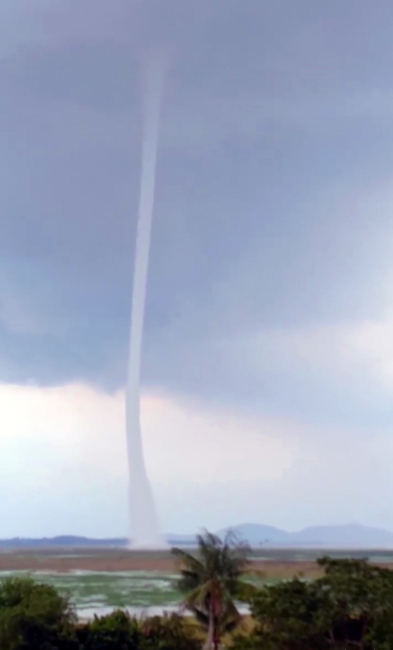 Immediately after the incident, Thanh Son commune authorities arranged support for the households in distress, and launched a search for a missing fishing boat.
According to initial findings by the commune, the tornado caused no human casualties apart from the missing fishing boat and four damaged fish rafts.
Nguyen Phuoc Huy, director of the Dong Nai Hydro-meteorological Station, said a waterspout is a violent columnar vortex that forms on a body of water and connects to a cumulus cloud.
Such phenomena can occur at any time when hot and cold air collide, usually in the afternoon. Waterspouts often appear in large open areas, such as the sea or desert.
"This phenomenon does not appear much in Vietnam. In recent years, in the Mekong Delta, it has occurred occasionally in Kien Giang and Ben Tre provinces," Huy told local media.
Tri An is a man-made lake built on the Dong Nai river - a reservoir for the Tri An hydropower plant that began operations in 1987.