8 Vietnamese dishes enter global media spotlight
Sun, August 21, 2022 | 3:19 pm GTM+7
Pho (noodle soup), banh mi (Vietnamese sandwich) and goi cuon (fresh summer rolls) are three among eight Vietnamese dishes voted for by world famous magazines.
Pho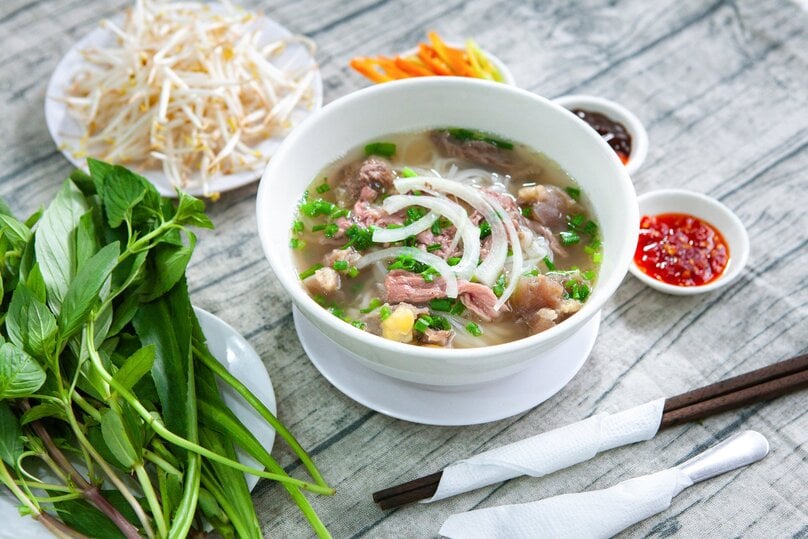 Pho has received rave reviews from global travel magazines for decades, and no visitor to Vietnam fails to mention it. The dish in July was ranked fifth in the world's top 10 best by The Travel readers.
"In fact, the wide variety of food in the country will leave visitors perplexed. Like many Asian countries, noodle soups are popular in Vietnam, it is a great place to begin a food exploration. This Vietnamese noodle soup is called pho and it consists of herbs, chicken, or beef," Thetravel.com, one of the world's leading travel sites, commented.
In 2021, CNN named pho bo (beef noodle soup) second on the list of 20 best soups in the world. The cable news channel described pho as a bowl of flat, soft rice noodles dipped in a fragrant beef or chicken broth flavoured with condiments.
In 2018, major American travel guide book publisher Lonely Planet recommended it as one of the best hangover cures on the road. The U.K.-based travel site Rough Guides also named pho among the world's 15 best foods that are easy on the pocket.
Banh mi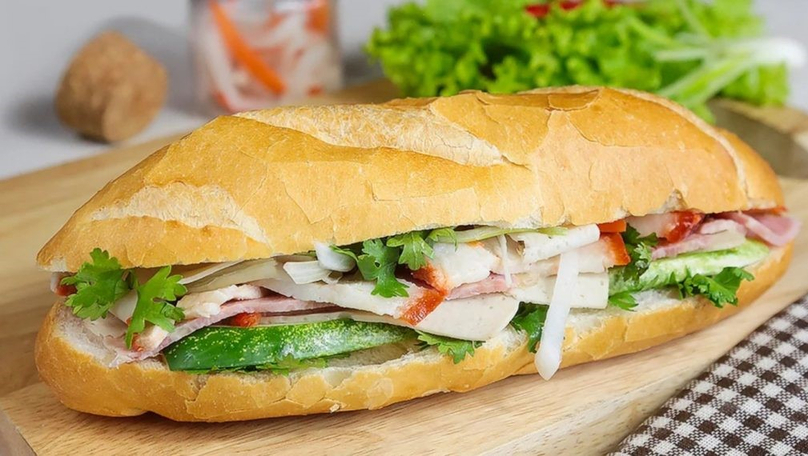 Along with pho, banh mi entered the world's top 10 best thanks to The Travel readers.
In May, CNN Travel selected banh mi among its list of the 23 best sandwiches from around the globe.
It is a popular local cuisine typically sold from food carts on nearly every street corner in Ho Chi Minh City and across the nation, with the dish even being widely loved beyond the country's borders, CNN Travel wrote.
Banh mi also ranked second in a recent story run in U.K. national broadsheet The Guardian about the world's best street food and written by foodie Richard Johnson.
It is described with a light baguette grilled over coals. After a smear of mayonnaise and a dollop of pate, the crispy shell is filled with meat, crunchy pickled vegetables and fresh herbs. It is then typically seasoned with a few drops of soy sauce and a spicy chili condiment.
Goi cuon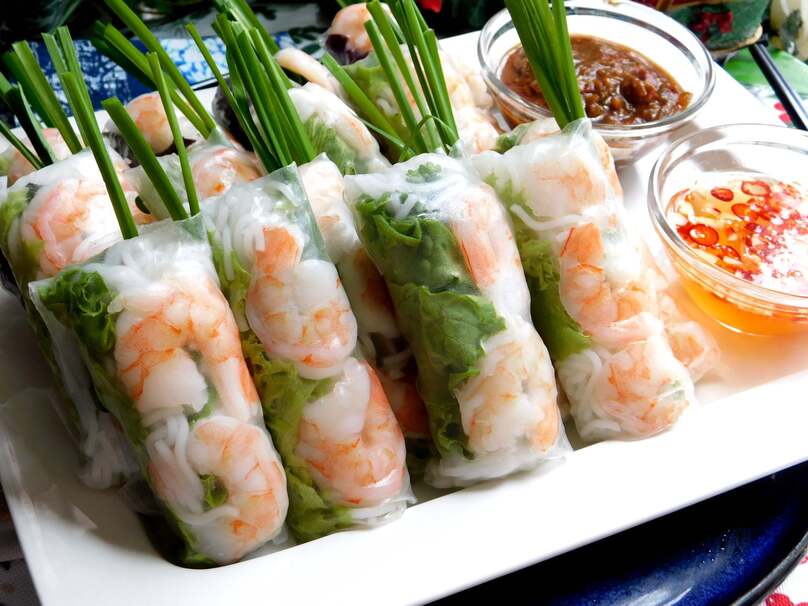 Goi cuon, or fresh summer rolls, are a popular snack in the south. Rice paper is wrapped around pork, shrimp, herbs, and rice vermicelli, and it is best eaten dunked in sweet and sour fish sauce or a thick peanut dip.
It was named among the world's 50 best dishes by CNN in 2019. "Dipped in a slightly sweet Vietnamese sauce laced with ground peanuts, it's wholesome, easy and the very definition of 'moreish'," the cable news network wrote.
Banh xeo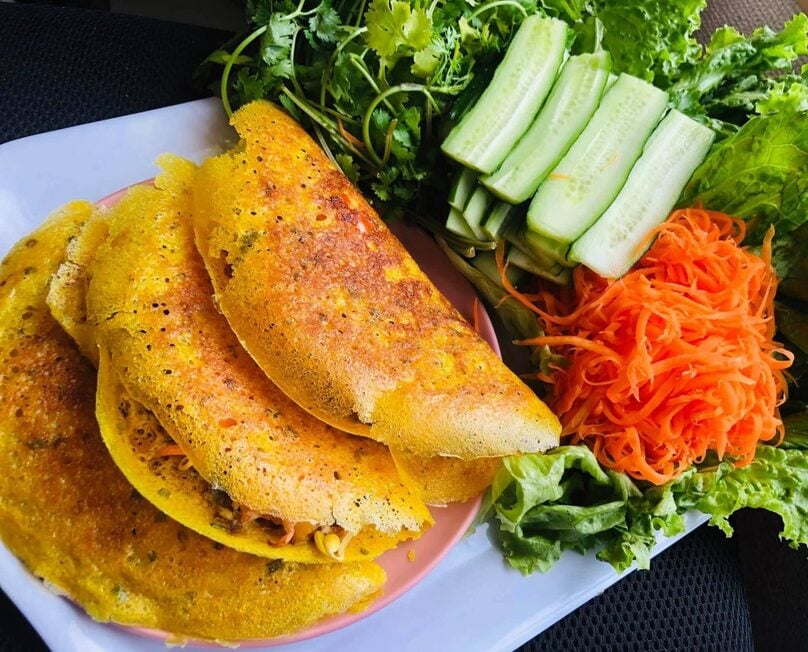 In 2019, banh xeo (Vietnamese pancake) was praised by U.K. travel magazine Culture Trip and recommended that tourists enjoy it at least once when coming to Vietnam.
In the south, banh xeo is usually large in size, with a thin and crispy crust, while in the central region, the cake will be small and have a thicker crust.
However, in most regions, it is typically filled with shrimp, meat, bean sprouts, and green beans, served with sweet and sour fish sauce.
Bun bo Nam Bo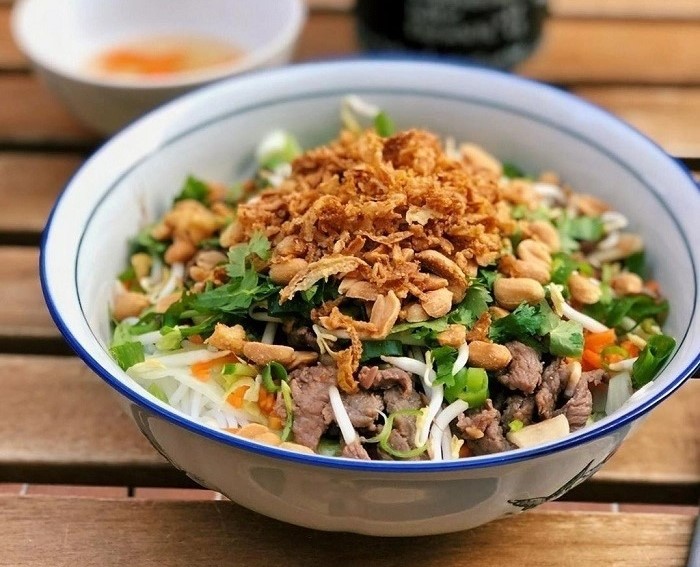 Bun bo Nam Bo (southern region beef noodles) is a noodle disk made of stewed or braised beef, beef broth, vegetables and noodles. This popular food item has been introduced from the north to the south of Vietnam.
The first shop selling this noodle dish was reportedly located on the sidewalk of Dong Loi hotel on Nam Bo street, Hanoi (later renamed Le Duan street), opened in the 80s of the last century.
The dish was once recommended among the top 10 must-try foods in Vietnam by CNN.
Bun cha
Bun cha (grilled pork with rice noodles) enterd the world's top 10 best thanks to The Travel readers in July, 2022.
In mid June, bun cha, one of the most well-known Vietnamese dishes, was featured in the Platinum Jubilee Cookbook to mark the 70th anniversary of the accession of Queen Elizabeth II on February 6, 1952.
Along with pho, bun cha represents Hanoi's stunning food culture, a great combination of rice ingredients, meat, veggies, spices, and local dipping sauces. Bun cha is thought to have originated in Hanoi, where it is served in elegant restaurants and by simple street vendors in narrow alleys.
Com tam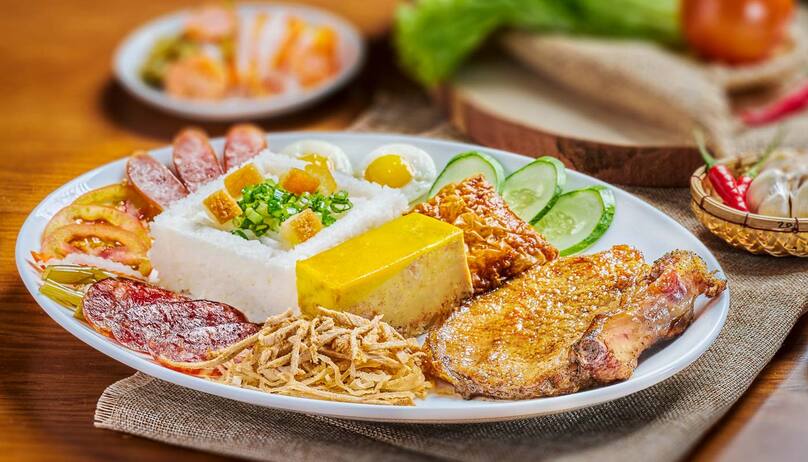 Com tam (broken rice) is usually cooked from broken rice, served with grilled ribs, pork belly, egg rolls and added chili garlic fish sauce.
It is usually garnished with pickled vegetables like daikon radish and carrot, a popular breakfast in Ho Chi Minh City and southern provinces.
In 2019, it was honored by U.K. travel magazine Culture Trip as one of the best dishes in Vietnam. The broken rice dish was also featured in a Netflix documentary series on Asian street food in 2019.
Mi Quang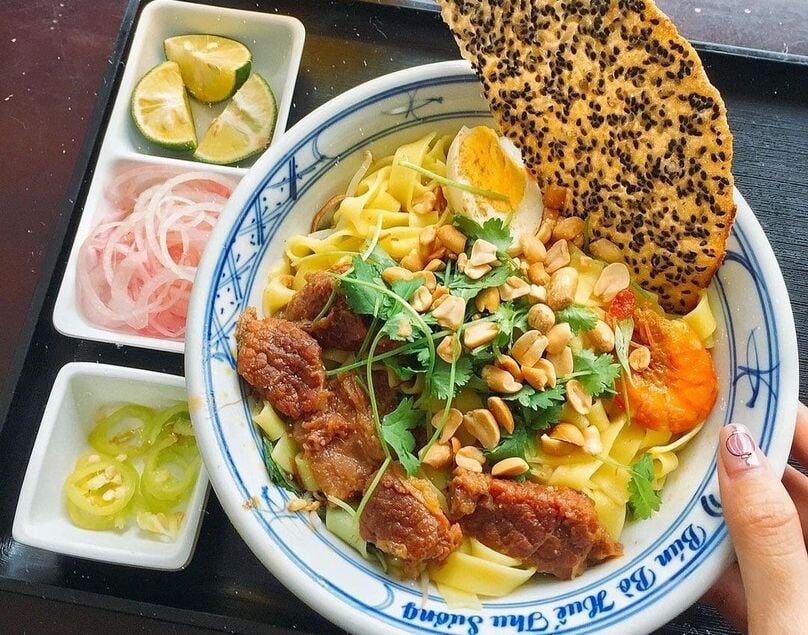 Mi Quang is one of the best dishes in Vietnam that visitors should try as listed by Culture Trip.
It's a perfect mix of flavors and textures, and is made with some of the best versions of staple Vietnamese ingredients - rice cake, noodles, turmeric, peanuts and a serving of pork, shrimp or beef, the magazine wrote.
Among the best places for this dish is the ancient town of Hoi An, a UNESCO heritage site in Quang Nam province, central Vietnam.