Bananas, pigs drive Hoang Anh Gia Lai profit up 25% over June
Mon, August 15, 2022 | 3:28 pm GTM+7
Agriculture producer Hoang Anh Gia Lai JSC (HAGL) reported an after-tax profit of VND125 billion ($5.34 million) in July thanks to bananas and pigs, up 25% on June and equivalent to a daily profit of $179,000.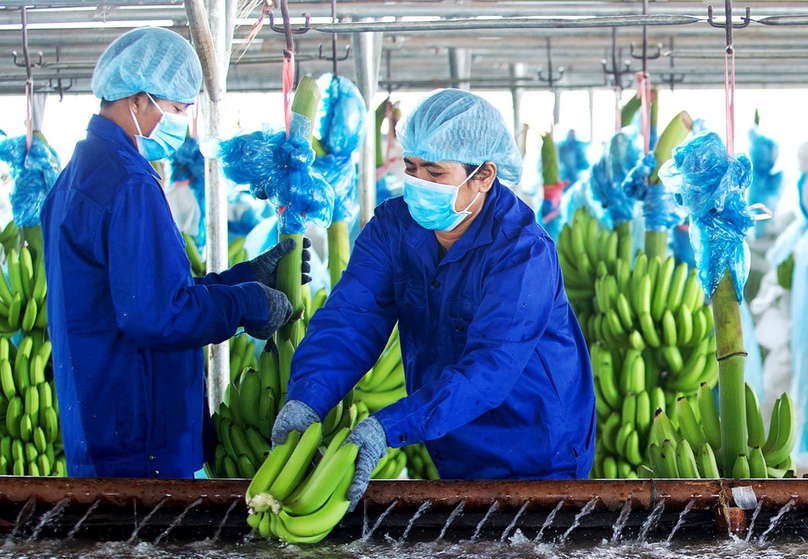 This is an unusual profit in the context that enterprises in the livestock industry have recorded reduced earnings, even losses, due to rising animal feed prices.
The company's July revenue reached VND393 billion ($16.8 million), of which fruit trees accounted for VND186 billion, livestock farming VND145 billion, and ancillary services VND62 billion.
The export price of bananas has not increased as expected, but was offset by a sharp rise in the price of live pigs, at an average of VND62,000 ($2.65) per kilogram, helping its profits go north, according to HAGL.
In the first seven months, the company achieved revenue of VND2,260 billion ($96.6 million) and after-tax profit of VND657 billion ($28.1 million).
By the end of July, Hoang Anh Gia Lai sold to the market 105,961 pigs and 138,792 tons of fruit trees, of which 38,537 tons were bananas used for animal feed production.
HAGL recorded an after-tax profit of VND531 billion ($22.7 million) in the first six months of the year, 66 times higher than the same period last year. The figure, equivalent to 47% of the year's plan, is a record high since 2018.
The corporation's revenue reached VND1,867 billion ($79.81 million), the highest for the semi-annual period since 2019. Of this, the main source of income still came from fruit trees, bringing in VND1,094 billion, accounting for 59%.
On the Ho Chi Minh Stock Exchange, the HAG shares price hit VND12,150 ($0.52) per unit at the closing session on August 15.