BIDV, Hana securities units kick off strategic cooperation
Thu, August 4, 2022 | 4:04 pm GTM+7
The securities arms of South Korea's Hana Financial Group and Vietnam's leading bank BIDV have launched a strategic partnership, aimed to boost the Vietnamese broker's digital transformation.
"The strategic partnership focuses on joint efforts to effectively develop digital transformation, expansion of new business areas, and application of an advanced risk management system," Lee Eun Hyung, vice chairman of Hana Financial Group and CEO of Hana Securities, said at the partnership launch in Hanoi Wednesday.
Ngo Van Dung, CEO of BIDV Securities (BSC) and a board member of BIDV, said, "This key milestone motivates us to boost business activities, invest more in information technology, carry out comprehensive digital transformation, and keep developing our banking and financial services ecosystem."
"It will help us accelerate our 2025 goal of becoming one of the leading securities companies in Vietnam with substantial contributions to the sustainable development of the Vietnamese stock market," he added.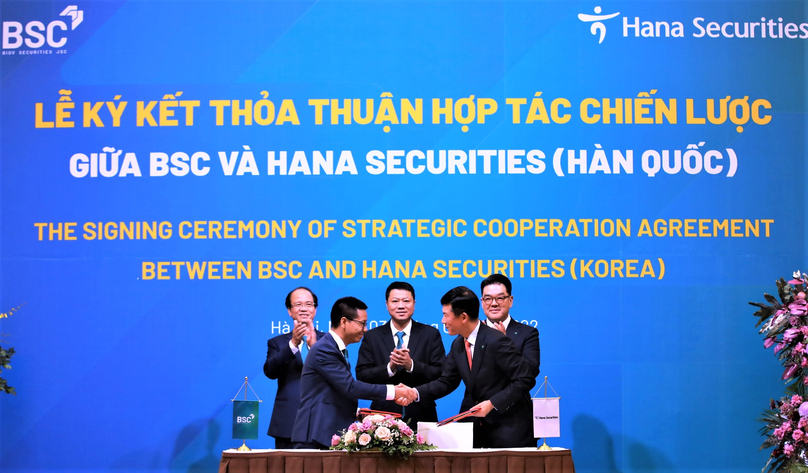 The two sides expect the partnership to help BSC improve brokerage service quality, enlarge its customer base via digital transformation, and expand its business into fund management.
BIDV, one of Vietnam's leading banks by assets, in 2019 transferred a 15% stake to Hana Bank of Hana Financial Group for around $875 million.
Then, Hana Financial Investment Co., a subsidiary of the group, acquired a 35% stake in BSC for almost $117 million this April.
BIDV is the largest shareholder in BSC, holding an almost 80% stake. BSC's main business activities include securities brokerage, underwriting, investment consulting, derivatives trading, proprietary trading, and investment banking.