Budget carrier Vietjet records $6 mln H1 profit
Sat, September 3, 2022 | 8:30 am GTM+7
Vietjet recorded an after-tax profit of VND145 billion ($6.18 million) in the first half of the year, up 19% year-on-year as domestic travel demand recovered.
The firm's consolidated revenues rose 111% to VND15,934 billion ($679 million), according to its financial statement.
Air transportation fetched revenues and after-tax profit of VND14,898 billion ($635 million) and VND80.33 billion ($3.42 million), up 197% và 135% year-on-year, respectively.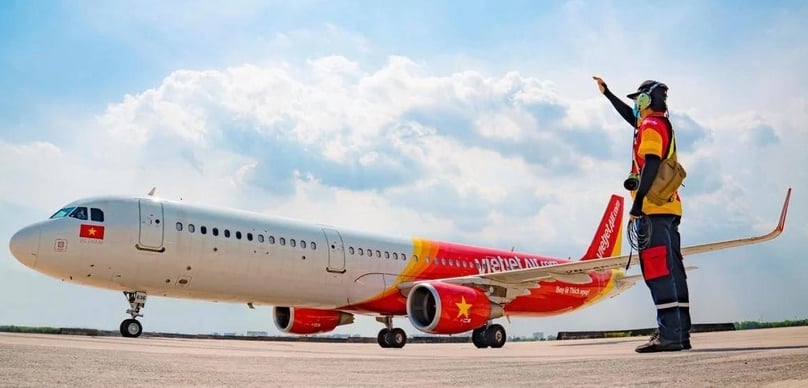 The carrier said demand on domestic air routes surged 30% in the first six months over the same period in pre-pandemic 2019.
It operated nearly 33,000 flights in the period, transporting six million passengers, up 135% and 200% year-on-year, respectively. The volume of goods transported reached more than 11,000 tons.
As of June 30, Vietjet's total assets were valued at VND62,669 billion ($2.67 billion). The debt to equity index was 1.09, among the best in the world's aviation industry.
The Vietjet Aviation Joint Stock Company is listed on the Ho Chi Minh Stock Exchange as VJC. It closed the trading session on August 31 at VND121,600 ($5.18).
Meanwhile, its major competitor Vietnam Airlines lost VND2,568 billion ($110 million) in the second quarter, an improvement compared to the VND4,451 billion ($191 million) loss in the same period last year. This is the 10th consecutive quarter the company has reported a loss.
The airline's net revenue in the first six months reached VND29,944 billion ($1.28 billion), up 114% year-on-year. Its net loss hit VND5,118 billion ($219.3 million). By the end of June, its accumulated loss had reached VND28,921 billion ($1.24 billion).
Vietnam welcomed 1.44 million foreign visitors in the first eight months of the year, up 13.7 times year-on-year, but down 87.3% against the same period in pre-pandemic 2019.
Of this, 88.2% came by air, 18.5 times higher than the same period last year. Arrivals by road and sea accounted for 11.8% and 0.03%, respectively.
Vietnam targets welcoming five million international visitors this year. The eight-month figure of 1.44 million means the country has fulfilled just 29% of the target.