Ghost Month fails to spook automobile sales in Vietnam
Fri, August 26, 2022 | 10:34 am GTM+7
Contrary to predictions of sluggish sales during the Ghost Month, believed to be an inauspicious period, many people took advantage of attractive promotions to buy cars.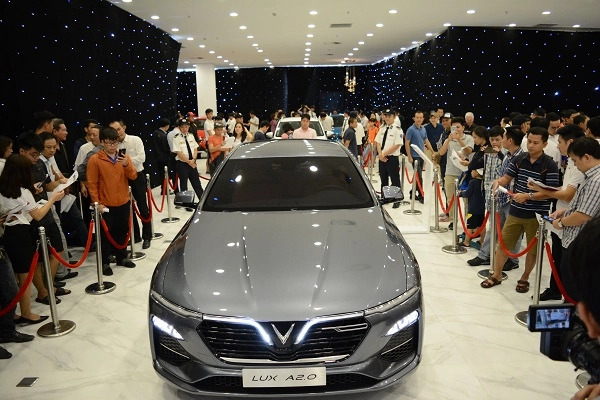 The Ghost Month is the seventh lunar month that lasts from late July to late August this year.
In Vietnam and several other Asian countries, the Ghost Month is believed to be a period of bad luck and not a good time to buy big-ticket items like houses and cars, or for holding important events like weddings and ground-breaking ceremonies for houses.
This year, car dealers have offered many promotions for this special month, including discounts, gifts and increased after-sales and warranty periods.
Discounts offered by Hyundai, Toyota and Suzuki - major automakers in Vietnam - ranged from VND10-35 million ($427-1,495).
A sales consultant with a car dealer in Ho Chi Minh City's Tan Binh district said that these incentives are normally offered during the Ghost Month to stimulate market demand.
However, in contrast to other years, this year, the number of customers looking to buy cars during the Ghost Month appeared to increase, he said. Although dealers have not disclosed their official sales figures, several sales people have noted that there have never been as many customers buying cars at this time in previous years.
Thanh Hoang, a consultant with an auto dealership in HCMC's District 10, said that many customers were buying cars thanks to attractive discounts. "This month, there are not as many customers as in previous months, but compared to the same period in previous years, we have received more customers and shipped more orders," he said.
Dang Quoc Hao, a resident of HCMC's Tan Phu district, said: "My wife and I had planned to buy a car for a long time. On this occasion, I took my wife to see and choose a car. I chose this time because I don't think there will be a time with cheaper car prices like this. While some car models are still in short supply due to lack of spare parts and high logistics costs, I don't think there is a better time to buy a car like now".
Sharing the same view, Bui Ngoc Son, director of Dan Thai Co., Ltd., an investment specialist, said that the current, unpredictable fluctuation in car prices is understandable.
If the reason for the price drop has been attributed to the Ghost Month, the reason for a price increase comes from the disruption of the global supply chain and high logistics costs. The risk of inflation also affects car prices, Son said.
"I think, after the Ghost Month, which means the end of August, the auto market will remain the same. If there is a fluctuation, it will be an increase in prices. Currently, many automobile manufacturers have a headache because of Euro 5 emissions standards, which have forced them to adjust their engines. This is also a reason for the price increase," he added.
Under new rules that took effect on January 1 this year, new cars made in Vietnam or imported into the country have to meet Euro 5 standards, instead of the Euro 4 standard that had been applicable since January 1, 2017.
Euro 4 and Euro 5 are standards on the testing and limits of pollutants in exhaust gases applicable to manufactured, assembled and imported brand-new motor vehicles.
According to the Vietnam Automobile Manufacturers' Association (VAMA), which does not include VinFast and Hyundai, its members sold 30,254 vehicles in July alone, up 20% over June and 88% year-on-year.
July sales of passenger cars and commercial vehicles increased by 30% and 1.8% over June, respectively, while that of special-purpose vehicles decreased by 57%.
In the first seven months of this year, 232,094 vehicles were sold by VAMA members, representing a year-on-year rise of 39%.
Among the non-VAMA members, Hyundai Thanh Cong supplied 5,792 vehicles to the market in July, lifting its total sales in the first seven months of this year to 42,189 units. Meanwhile, Jan-July sales at VinFast was 16,832 autos.