Hanoi Ring Road 4 construction to begin by next June
Fri, August 19, 2022 | 12:44 am GTM+7
Construction of Hanoi's Ring Road 4, running through the capital and neighboring provinces of Hung Yen and Bac Ninh, will commence before the end of next June.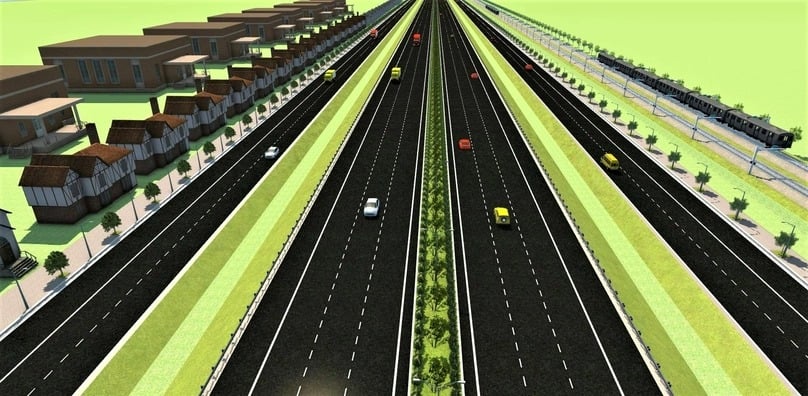 A resolution signed by Deputy Prime Minister Le Van Thanh Thursday set a June 30, 2023 deadline for the project to break ground, one year after the National Assembly approved the government's investment proposal.
The chairpersons of Hanoi, Hung Yen and Bac Ninh have been assigned the tasks of appraising, approving and developing the ring road's sub-projects in line with the Law on Public Investment.
The project is scheduled to be completed in 2026 so that Ring Road 4 can open to traffic in 2027, according to the resolution.
The national legislative body on June 16 approved investment policies for the road considered one of the most significant traffic infrastructure projects in Vietnam's development process, together with Ho Chi Minh City's Ring Road 3.
The Hanoi Ring Road 4, 112.8 kilometers long, would be built at a cost of about VND85,813 billion (around $3.7 billion).
Meanwhile, Ring Road 3 in HCMC, 76.34-kilometers long, will connect the southern economic hub with Dong Nai, Binh Duong and Long An provinces, all manufacturing hubs in southern Vietnam.
The total investment for phase one is estimated at VND75,378 billion ($3.25 billion), with 100% of the funds sourced from the city and national state budgets.
The Ring Road 3 project is set to break ground by June 2023 and be completed in 2026, according to Phan Van Mai, chairman of HCMC.
"It will run through urban areas with high population density across four localities. Thus, land clearance will be a very big challenge," he said.