Hanoi to start building Ring Road 5 before 2030
Tue, August 30, 2022 | 10:12 am GTM+7
Hanoi aims to complete the Ring Road 4 project before 2027 and begin work on Ring Road 5 before 2030.
The timelines were set out in the city's newly-released action program on its development until 2030, with vision until 2045.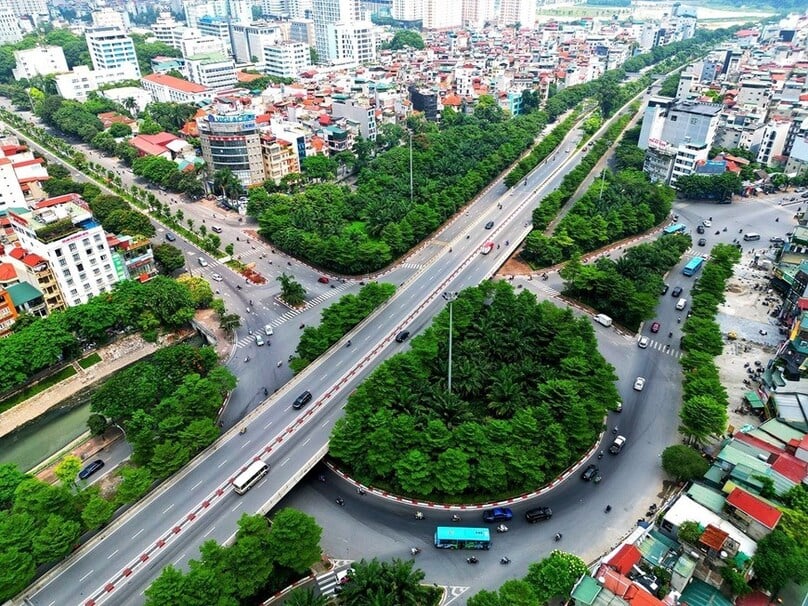 According to a detailed plan approved in 2014, Ring Road 5 will be about 331 km long, excluding 41 km that overlaps with the Noi Bai-Ha Long, Hanoi-Thai Nguyen and Noi Bai-Lao Cai expressways, was well as National Highway 3.
The route, with 4-6 lanes and a roadbed at least 22-33 meters wide, will run through Hanoi (48 km), Hoa Binh (35 km), Ha Nam (35 km), Thai Binh (28 km), Hai Duong (53 km), Bac Giang (51 km), Thai Nguyen (29 km), and Vinh Phuc (51 km).
Investment for Ring Road 5 was estimated at about VND85,560 billion ($3.65 billion), based on 2013 prices.
As for Ring Road 4, a resolution signed by Deputy Prime Minister Le Van Thanh in August set a June 30, 2023 deadline for the project to break ground, one year after the National Assembly approved the government's investment proposal.
The VND85,813 billion ($3.7 billion) project is scheduled to be completed in 2026 so that Ring Road 4 can open to traffic in 2027, according to the resolution.
The 112.8 kilometer road running through the capital city and neighboring provinces of Hung Yen and Bac Ninh, is one of the most significant traffic infrastructure projects in Vietnam's development process, together with Ho Chi Minh City's Ring Road 3.
Also under the new action program, Hanoi will build more bridges across the Red and Duong rivers, creating modern "architectural highlights."
The Noi Bai International Airport will be expanded and upgraded and studies undertaken on building an additional international airport.
The city will also study building a number of inland waterway wharves for tourism development and freight transport.
Hanoi also aims to put into operation 2-3 urban railway lines by 2025, and complete 50% of its urban railway system target by 2030. Under its master plan, the capital city would have 10 metro lines by 2030.
Under a resolution passed by the Politburo, the Party's premier decision-making body, envisages average growth rate of Hanoi's gross regional domestic product (GRDP) in 2021-2025 being higher than the national average. The city's annual GRDP in the period 2026-2030 will grow by 8-8.5%, while GRDP per capita would reach $12,000-13,000. By 2045, Hanoi's GRDP per capita will top $36,000.