$60 mln road expansion to assist third VSIP Industrial Park in Binh Duong
Fri, August 26, 2022 | 4:02 pm GTM+7
A road leading to Vietnam-Singapore Industrial Park (VSIP) III in Binh Duong province will be expanded to six lanes to facilitate FDI inflow to the new IP.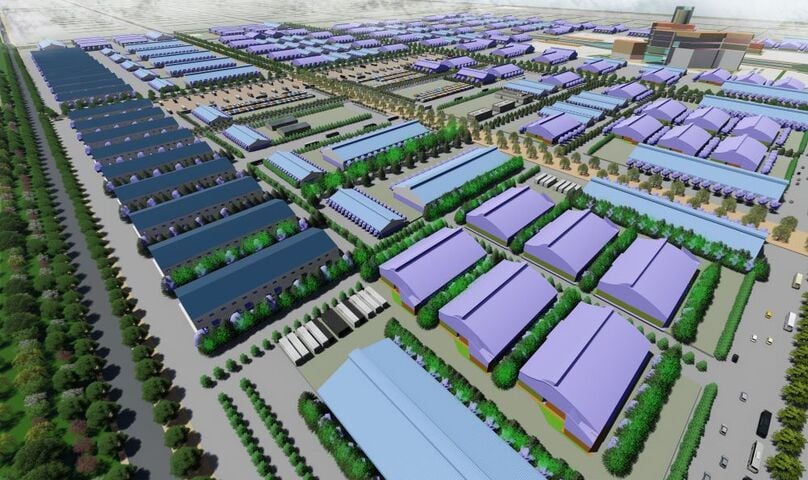 "Upgrading and expanding the DT746 road is a very important project to welcome new waves of investment into VSIP III and as Lego Group prepares to invest in building a $1 billion factory at the IP," Binh Duong's Party chief Nguyen Van Loi said Wednesday when inspecting progress of the IP project.
Loi requested compensation and clearance procedures to be completed in September 2022, disbursement of compensation funds to commence in October, so construction on the VND1,400 billion ($59.8 million) project could start in November 2022.
The publicly-funded project of upgrading and expanding the DT746 road, the section from Tan Thanh junction to Hoi Nghia junction in Bac Tan Uyen district, has a length of 11.3 kilometers.
The total number of affected households in Bac Tan Uyen district numbers 672 and in Tan Uyen town, 452. The local government has announced the land acquisition of 976 households.
BIDV, one of Vietnam's "Big 4" commercial banks, will loan about $200 million for constructing VSIP III in Binh Duong under a loan agreement it signed with VSIP Co. Ltd. Monday.
VSIP Co. is a joint venture between Singapore's energy and urban developer Sembcorp Industries and Binh Duong-based major industrial property and urban developer Becamex. It started the construction of the VSIP III - Binh Duong this March, with Vietnam's Prime Minister Pham Minh Chinh attending the ground-breaking ceremony.
With a total investment of $280 million, the 1,000 hectare IP is located in Bac Tan Uyen district, about an hour's drive from Ho Chi Minh City.
The park will have green and smart infrastructure to attract investment into many sectors including electricity, electronics, transport vehicle production and assembly, mechanics, support industry, textile - garment, food, beverage, and logistics.
VSIP's 11 large-scale industrial parks in Vietnam are located in Bac Ninh, Hai Phong and Hai Duong in the north; Nghe An, Quang Tri and Quang Ngai in the central region; Binh Duong in the south.
Lego obtained a license in March this year to develop its latest project, which is also the largest investment in Vietnam by a Danish company, in VSIP III.
The Danish firm said the new factory will be its first carbon-neutral factory, featuring solar panels on its roof and that VSIP will build a solar project nearby on behalf of Lego. Together, they will produce enough renewable energy to match 100% of the factory's annual requirements.