Hanoi's tourist magnet Railway Street shut down
Thu, September 15, 2022 | 10:35 pm GTM+7
Police and civil defense forces in Hoan Kiem district set up Thursday barricades at both ends of Hanoi's Railway Street to prevent tourists from entering the railway safety corridor.
Previously, Hoan Kiem district people's committee had stated Wednesday that it would close the cafes along the route that encroaches upon the railway safety corridor.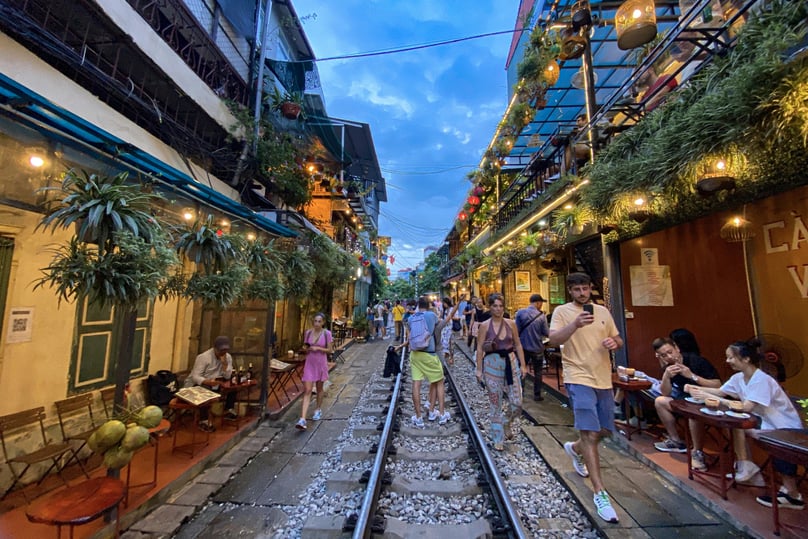 According to official statistics, there are more than 30 cafe households right next to the train route passing through Hang Bong, Cua Dong, Cua Nam, Hang Ma and Dong Xuan wards.
All the cafes are violating the railway safety corridor limit, causing accident risks, according to local authorities.
However, the district is eyeing a project associated with this railway to form a tourist attraction, derived from the legitimate needs and aspirations of local people and visitors on the condition that safety is secured and laws are enforced.
Vietnam Railways on Monday had sent a written request to the Hanoi People's Committee, asking city authorities to completely crack down on trading and photo-taking at cafes along the railway line to the north of Hanoi Station.
According to Vietnam Railways, in early 2018, there appeared a type of tourism activity whereby foreign tourists visited, filmed and took photos on the Railway Street, especially when a train passed by, in the area north of Hanoi Station.
Then, the cafes displayed tables and chairs to sell drinks to tourists within the railway traffic safety corridor not accessible to the public.
When the Covid-19 pandemic was contained, the encroachment of the railway safety corridor in this area recurred.