Hoa Phat produces 5.5 mln tons of crude steel in 8 months
Fri, September 9, 2022 | 3:13 pm GTM+7
Hoa Phat Group, the largest Vietnamese steelmaker, produced 5.5 million tons of crude steel in the first eight months of the year, up 2% year-on-year.
Sales volume of billets, construction steel and hot rolled coil (HRC) reached 5.14 million tons, up 5% compared to the first eight months of 2021.
Construction steel sales rose 27% year-on-year to 3.1 million tons, with exports accounted for 32%, or 990,000 tons, up 82%.
Hoa Phat has supplied 1.8 million tons of HRC to the market during the period, up 3% year-on-year. Sales of downstream products like steel pipes and coated steel sheets reached 491,000 tons and 226,000 tons, respectively, up 5-7% year-on-year.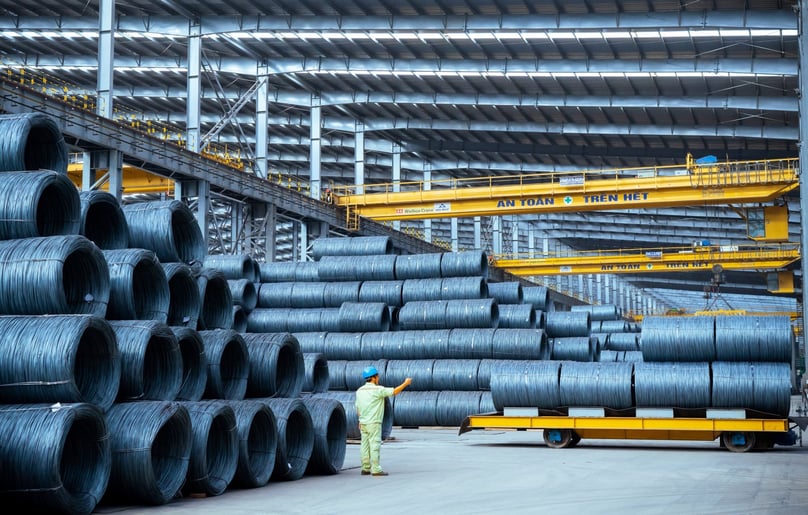 In August 2022, Hoa Phat achieved a sales volume of 628,000 tons of construction steel, billets and HRC. Of this, sales of construction steel reached 386,000 tons, a 44% rise over July. The figure for HRC was 233,000 tons, up 56% from July, but a slight decrease over August 2021.
The high construction steel output was mainly driven by better domestic consumption compared to previous months, according to a company release.
Sales recorded strong growth across the nation, up 54% year-on-year in the north, 39% in the center and a two-fold increase in the south.
Meanwhile, the market's demand for steel pipes and galvanized steel products has improved, helping Hoa Phat's HRC sales to surge over July.
Specifically, sales of steel pipe products reached nearly 64,000 tons in August, up 60% year-on-year, while that of corrugated iron reached 28,000 tons, down 5% year-on-year but up 60% compared to July.
Hoa Phat has crude steel production capacity of 8.5 million tons. Its construction steel and steel pipes hold the biggest market share in Vietnam at 36.4% and 29%, respectively, according to the release.
Hoa Phat exports steel products to more than 20 countries and territories. The group, listed on the Ho Chi Minh Stock Exchange as HPG, has created jobs for nearly 30,000 people in Vietnam, Australia and Singapore.
The HPG share closed Friday's session at VND23,800 ($1.01).