Illegal constructions encroach Phu Quoc marine reserve area
Wed, August 17, 2022 | 2:40 pm GTM+7
Many tourism facilities have encroached illegally into Phu Quoc Island's 40,909-hectare marine reserve area, harming the ecosystem and its rare animals and plants in one of Vietnam's top tourist attractions.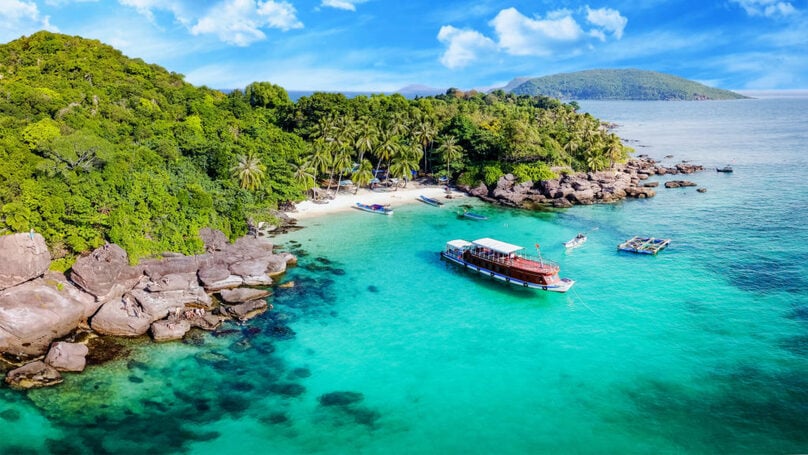 Phu Quoc's Party Committee Secretary Tong Phuoc Truong Tuesday asked for dismantlement of the illegal constructions that have infringed on the marine reserve area. The island administration also plans to stop all snorkeling activities in waters south of An Thoi.
In Cay Sao hamlet, Ham Ninh commune, local authorities have recorded three constructions in the ecological restoration subdivision of the Phu Quoc marine reserve area, including three leading bridges; restaurant area, fish raft area, a bar and 18 bungalows on an area of more than 2,000 square meters.
In the south of An Thoi islands (May Rut Trong and Roi islets), violations were seen in four sea embankment constructions and a pedestrian bridge.
These breaches were recorded in the administrative services and ecological restoration subdivision of the marine reserve area under the management of Phu Quoc National Park.
The Phu Quoc Marine Reserve is one of 11 marine reserves in the country. Its strictly protected area covers 7,000 hectares; ecological restoration has been earmarked for 11,500 hectares; a services-administrative area of nearly 10,000 hectares, and an established buffer zone of 12,500 hectares.
Phu Quoc, Vietnam's largest island off the southern province of Kien Giang, gained global renown after the government allowed 30-day visa-free entry to the island in 2014. The island received five million visitors in 2019, pre-pandemic time, 541,600 of them foreigners, according to official data.
In the first half of this year, the number of passengers to Phu Quoc reached nearly 1.4 million visitors, of which the number of international visitors was 46,200.
In July, Vietnam's Phu Quoc and Con Dao were included in the list of top 10 islands in Southeast Asia as voted by readers of the Travel + Leisure magazine.
Phu Quoc, also known as "Pearl Island", was named among the 17 best places in Asia by cable news network CNN in 2019. "The island is home to some of the most beautiful beaches in Southeast Asia and the world's longest overseas cable car," it said.