Man who 'packed' child in freezer arrested for attempted murder
Sun, August 14, 2022 | 11:15 pm GTM+7
Nguyen Truong Giang, 25, was arrested Sunday for attempted murder after he strangled a 3-year-old boy, packed him in a carton box and stored him in a freezer.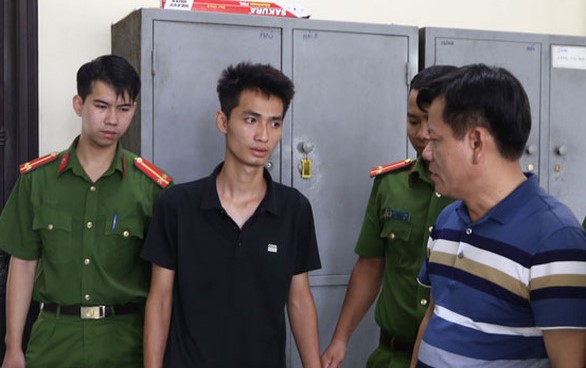 The horrific incident happened in Chinh Ly commune, Ly Nhan district, Ha Nam province, northern Vietnam.
Giang told police that around 3:20 p.m. Saturday, the 3-year-old boy from the family next door, from whom he had leased space, walked into his milk tea shop.
The boy drank a cup of milk tea on the table, followed Giang to the kitchen counter to get cookies and went to the bed to eat it.
Giang said that he got angry because the boy kept pestering him to play with him. He hit the child's head with a baseball, then, failing to calm the child after repeated attempts, Giang pinned the child to the floor, forcing him to lie still.
When the boy cried and called out to his grandfather for help, Giang used his shoelace around his neck and strangled him. Then he put the boy in a carton and placed it in a freezer. Then he locked the shop and rode to Hanoi on his motorbike.
After the child's grandfather could not find him and raised an alarm, the cctv camera footage was checked. It showed the boy entering Giang's shop, but not leaving it. After calling Giang on the phone in vain, the grandfather and neighbours broke the door of the shop.
At 5:50 pm, one of the neighbors found the boy. He had suffered respiratory failure, hypothermia, head trauma, and had a swollen face, neck and tongue. But he was still alive and rushed to local hospital before being transferred to the National Children's Hospital in Hanoi Saturday night.
After treatment began in the emergency ward, a hospital representative said Sunday that the boy's condition was stable, but he still had swelling in his head, scratches on the head and neck, bruises on his face and difficulty eating. He was still in panic, doctors said.
Local authorities said that Giang had been discharged from the army in 2020 and went to Hanoi to start a business. Later, he returned to his hometown and started the milk tea business that he was running.