PV GAS to sell entire PV PIPE stake
Sat, August 13, 2022 | 11:20 am GTM+7
PetroVietnam Gas Joint Stock Corporation (PV GAS) plans to organise an auction on August 30 for its entire stake in PetroVietnam Steel Pipe Joint Stock Company (PV PIPE).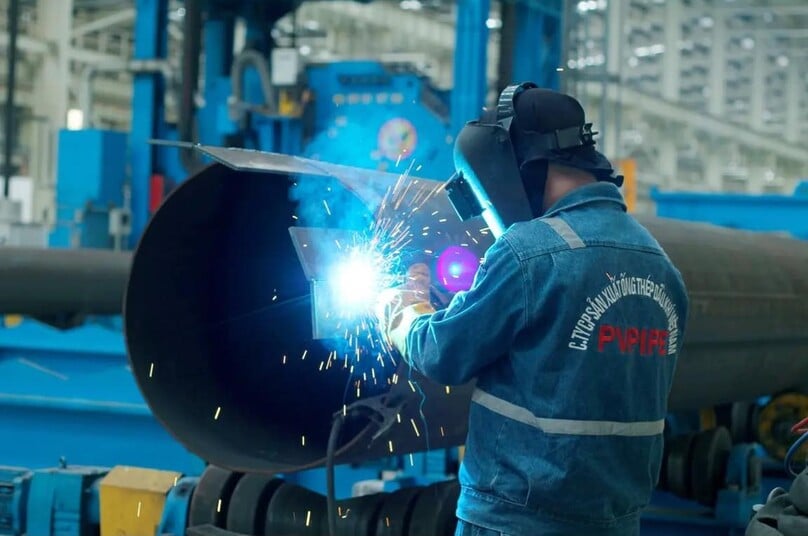 Accordingly, PV GAS would sell all 183.84 million shares or 99.99% of PV PIPE's chartered capital at an initial price of over VND1.5 trillion ($64.1 million) or VND8,197 ($0.35) per share.
All domestic and foreign investors can participate in the auction if they meet the conditions specified in the country's auction regulations and commit to paying PV GAS VND397 billion ($16.97 million) worth of debts that PV PIPE owes.
The divestment plan was approved by PV GAS's 2022 annual general meeting. This year, the corporation also plans to divest from Southern Gas Trading Joint Stock Company (GAS SOUTH), listed on the Hanoi Stock Echange as PGS.
PV PIPE was established in April 2010 with a charter capital of VND1,838 billion ($78.56 million). It mainly operates in the field of steel pipe production and owns an oil and gas steel pipe plant at the Soai Rap Petroleum Service Industrial Park in the Mekong Delta province of Tien Giang. Covering an area of 22.9 hectares, the VND2,174 billion ($92.92 million) plant has a design capacity of 100,000 tons per year.
In 2021, PV PIPE suffered an after-tax loss of VND163 billion ($6.97 million) as its net revenue sharply fell by 89% compared to the previous year to VND35 billion.
In the first half of 2022, the company earned only VND7 billion in revenue, leading to a post-tax loss of VND71 billion. Its accumulated losses reached VND815 billion ($34.83 million) as of June 30, 2022. The figure is estimated at VND140 billion this year.
Meanwhile, PV GAS posted an after-tax profit of nearly VND7 trillion ($299 million) in the first six months of 2022, up 87% compared to its target and 59% year-on-year.
The firm produced and supplied over 1 million tonnes of liquefied petroleum gas (LPG) in the first two quarters of 2022, surpassing 23% of the plan and equal to 99% of that in the same period last year, accounting for about 70% of the wholesale market share of the country.
It also produced and supplied 56,800 tonnes of condensate, up 67% compared to the plan and 85% year-on-year.
PV Gas, a subsidiary of the state-run Petrovietnam, is listed on the Ho Chi Minh Stock Exchange as GAS.