SMBC representative leaves Eximbank board of directors
Fri, September 16, 2022 | 2:58 pm GTM+7
The representative of major shareholder Sumitomo Mitsui Banking Corporation (SMBC) in Eximbank, Vo Quang Hien, is no longer a member of its board of directors, starting Wednesday.
The reason is that Hien is no longer the authorized representative of SMBC in the Ho Chi Minh City-based private bank.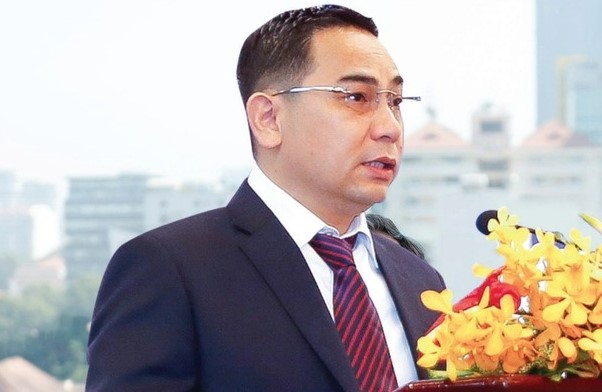 Vo Quang Hien, 53, is currently managing director of the Sumitomo Mitsui Bank-Singapore branch's global trade finance department.
From 2017 to 2019, he was deputy general director and head of corporate banking at Eximbank.
On February 15, 2022, SMBC, holding a 15% stake in Eximbank, nominated Hien to join the bank's board for the period 2022-2025.
Before joining Eximbank, Hien had worked at international banks like ANZ-HCMC branch and Standard Charter Bank-HCMC branch.
The board of Eximbank now has only six members, including chairman Luong Thi Cam Tu, independent member Dao Phong Truc Dai, and four others Le Hong Anh, Nguyen Thanh Hung, Nguyen Hieu, and Do Ha Phuong.
Last week, Eximbank had re-appointed Tran Tan Loc its CEO for another three years. Loc was first selected for the position last September after the bank had experienced a two-year absence of a CEO.
In May, SMBC had terminated its strategic partnership with Eximbank ahead of time, after 14 years of cooperation.
However, the Japanese institution had not yet withdrawn its capital and remains a major shareholder, Eximbank chairwoman Luong Thi Cam Tu told her bank's annual general meeting in late May.
Eximbank reported after-tax profits of VND1,519 billion ($65 million) in the first six months of the year, 2.4 times year-on-year.
This is the first time since 2013 that the bank, one of the first joint stock commercial banks in the country, has generated first-half profits totaling trillions of Vietnamese dong (VND1 trillion = $42.84 million).
The bank's net interest income in the period reached VND2,662 billion ($114 million), a 48% rise year-on-year, according to its financial report.