Tourist dies after taking pictures near stream
Tue, August 9, 2022 | 4:49 pm GTM+7
A Vietnamese tourist died Monday after slipping from a stream bank at a homestay in Sapa town, northern Vietnam while taking a selfie with his wife.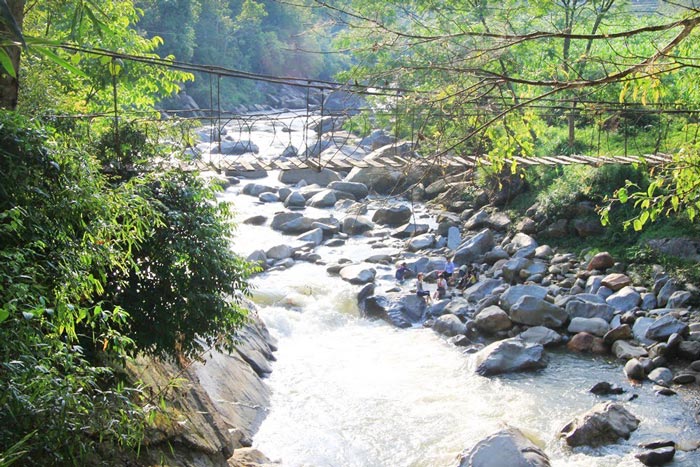 Ngo Tri Huy, 28, from Bac Giang province, his wife Nguyen Huyen Trang, and two other people, went to the stream near the homestay in Sapa's Ta Van commune, Lao Cai province to take pictures.
Huy then slipped and fell into the water, with his wife also swept away after a rescue attempt.
Trang clung to a rock in the stream and was rescued by a local resident who was repairing a pipe.
However, Huy was swept away by water about 10 meters into a deep water area, struggled and then disappeared.
Dozens of people from Sapa and Su Pan hydroelectric power station spread their nets and lowered the stream water level, but Huy was not found.
At 10:50 a.m. Tuesday, Vuong Trinh Quoc, chairman of Sapa, said that with the participation of divers, Huy's body was found near the scene.
In July, a Canadian tourist (of Vietnamese origin) slipped and fell at a waterfall in Ba La stream, Danang city, while climbing to take pictures and died.
The 46-year-old male tourist's body was recovered from the waterfall at 8:40 p.m. the same day, and handed over to local authorities for further investigation.
Previously, a 43-year-old Vietnamese male tourist standing on the bow of a ship fell into the sea prior to docking in Quang Ninh province, at 5 p.m. on May 14.
Everyone on board threw lifebuoys, but the male tourist was lost in the water. At 9 p.m. the same day, his body was found by rescuers.
The accident site was about 30 meters from the Ha Long international passenger port, with a water depth of five meters. From the bow of the ship down to the water surface is nearly two meters.