Van Don-Mong Cai Expressway opens to traffic
Thu, September 1, 2022 | 2:26 pm GTM+7
Van Don-Mong Cai Expressway in the northern province of Quang Ninh opened to traffic Thursday after more than two years of construction.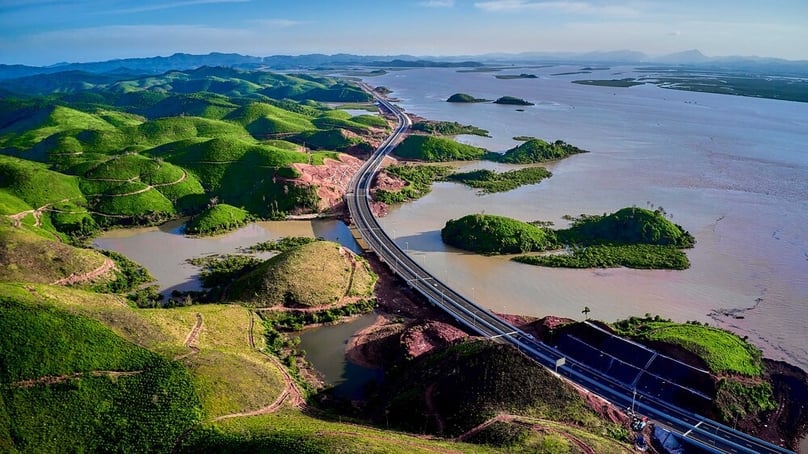 Built at a total cost of VND12 trillion ($511.5 million), the 80.23-kilometer expressway links the province's investment hub of Van Don with Mong Cai - a border trade center.
The first point of the expressway is located near Van Don International Airport, Vietnam's only privately-invested airport, while the end point connects to Bac Luan 2 Bridge in Mong Cai town, which borders China.
The project includes the 16-kilometer Van Don-Tien Yen section, with a total investment of VND3.66 trillion ($156 million) using the provincial budget, and the 64-kilometer Tien Yen-Mong Cai section, built at a cost of over VND9.1 trillion ($387.9 million) in the form of public-private partnership (PPP) with Sun Group as private investor.
The four-lane expressway allows vehicles to travel at a maximum speed of 120 kph, reducing travel time from Van Don to Mong Cai to 50 minutes instead of two hours.
It is connected to the 300-kilometer Hanoi-Ha Long Expressway and 264-kilometer Noi Bai-Lao Cai Expressway to become the longest route in the country. This is also the only expressway in Vietnam linking three airports and three economic zones with one international border gate.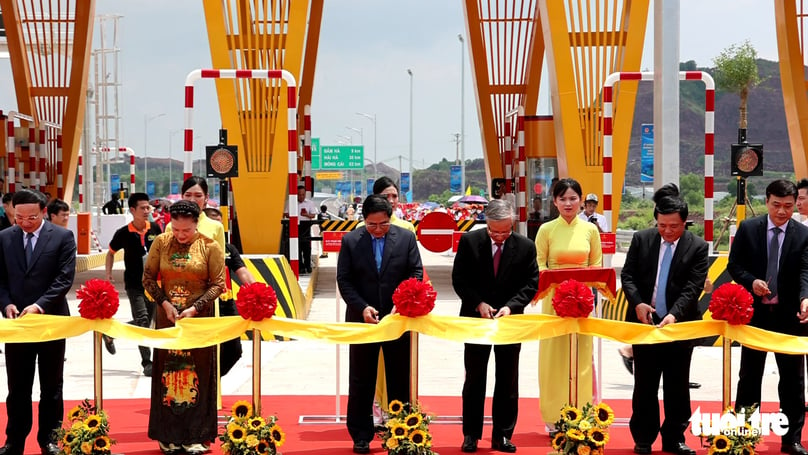 With the inauguration of this expressway, Quang Ninh has become the province with the largest number of expressway kilometers (176 kilometers), accounting for 15% of the total nationwide.
With travel time from Mong Cai to Ha Long cut by nearly half and from Mong Cai to Hanoi to only 3 hours instead of 5.5 hours, Van Don-Mong Cai Expressway holds special significance in terms of socio-economic development, national defence and security as it forms inter-provincial, inter-regional links and facilitates international trade.
As the backbone traffic axis of Quang Ninh province, the expressway will connect and promote the development of key economic zones in the province, including Ha Long, Quang Yen, Van Don and Mong Cai.
Connecting ASEAN countries and localities throughout the country with China - a market of over one billion people - through the Mong Cai international border gate will create conditions to attract investment, promote socio-economic development and tourism, and boost international trade.
The expressway also connects the systems of airports, seaports, tourist and entertainment areas, resorts, landscapes, cultural and spiritual sites throughout Quang Ninh, facilitating the transportation of goods and the travel of tourists as well as attracting investors to the province.
It will also contribute to drawing international tourists, opening up great development opportunities for Quang Ninh to become an international tourism center and a leading national destination in line with the Master Plan on Quang Ninh tourism development until 2020, with vision until 2030.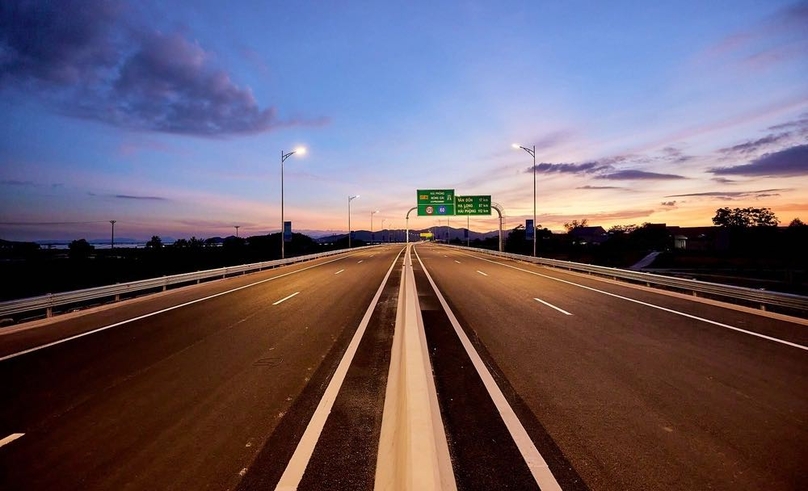 Under Vietnam's road development planning in 2021-2030, with a vision towards 2050, the country aims to develop over 5,000 kilometers of expressways by 2030, compared to more than 1,160 kilometers at the end of 2021.
Specifically, along the North-South axis, there are the eastern section of the North-South Expressway, running from Lang Son to Ca Mau (2,063 kilometers) and the western section of the North-South Expressway (1,205 kilometers).
There will be 14 expressways with total length of about 2,305 kilometers in the north, 10 expressways with combined length of 1,431 kilometers in the central region and Central Highlands, and 10 expressways with a total length of 1,290 kilometers in the south.