Vietnam cashew sector offers decade-long investment opportunities
Thu, August 18, 2022 | 3:25 pm GTM+7
Vietnam, the world's largest exporter of cashew nuts, is predicted to see its cashew shipments continue to rise in the next decade, opening further opportunities to investors, according to Research and Markets.
The opportunities spread from cultivation to processing and trading, says the market insights provider's "Vietnam Cashew Nut Market Report 2022 -2031", released Thursday.
According to the analysis, in the global cashew nut value chain, Vietnam exports cashew nuts at about $10 per kilogram or less, while cashew nut products are sold at up to $20-30 per kilogram in the end market.
"Therefore, Vietnam needs to increase the added value of cashew products and take advantage of modern processing technologies." Investors can tap into this reality.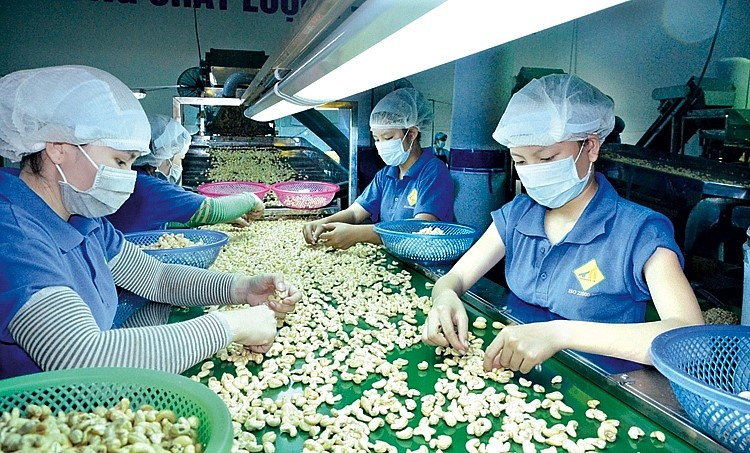 The Southeast Asian country is characterized by the tropical monsoon climate, thus boasting natural advantages in cashew cultivation, the report says.
Cashew nuts are some of the most important nut species in the global market, while Vietnam accounts for more than 50% of the world's processed cashew nut raw materials. This means investment opportunities in trading, the analysis notes.
With the entry into force of various free trade deals like the EU-Vietnam Free Trade Agreement (EVFTA) and the Regional Comprehensive Economic Partnership (RCEP), in which Vietnam is a member, and its gradual control of the Covid-19 epidemic, the nation is expected to export more processed cashew nuts.
In 2021, the country shipped overseas 579,773 million tons of cashews, up 12.6% year-on-year, generating almost $3.64 billion in revenue, up 13.3%, according to Vietnam's official data.
Among them, 176,363 tons were sent to the U.S., delivering an export value of $1.05 billion; and 85,162 tons were exported to China ($614.3 million). The Netherlands bought 68,903 tons for $373.7 million, while Germany imported 21,200 tons for $134.7 million.
A compound annual growth rate of 3% over the next decade is forecast for Vietnam's cashew nut market, ResearchAndMarkets.com says.
The analysis also mentions shortcomings in Vietnam's cashew nut industry. For example, cultivation is still dominated by small-scale farmers, and has not yet formed large-scale production. "Vietnam is relatively lagging in cultivation technology, which to a certain extent limits the development of the cashew nut industry," it says.
In the first seven months this year, Vietnam's cashew nut exports saw two-digit drops. The period's total shipments were estimated at 294,000 tons, worth $1.76 billion, down 10.5% in volume and 12.1% in value year-on-year, according to the Ministry of Industry and Trade's import-export department.
The department predicted that the country's cashew exports would continue to struggle in the third quarter due to inflation pressure in powerful economies that forces people to tighten spending.
Similarly, the Vietnam Cashew Association said cashew exports would continue to drop in the following months, even to the end of this year. Therefore, the group called on the sector to focus on markets with which Vietnam has signed free trade deals to take advantage of preferential tariffs.
The association has also lowered the sector's 2022 export target from $3.8 billion to $3.2 billion, more than $400 million less than last year's result.
According to the import-export department, global cashew exports are forecast to grow 4.6% per year in the 2022-27 period, along with the worldwide trend of vegan and plant-based diets, favoring alternative protein sources.