Vietnam economic recovery fast, impressive: international agencies
Mon, September 12, 2022 | 9:12 pm GTM+7
Vietnam is on a growth trajectory with stable macro-economic fundamentals, signalling bright prospects for FDI attraction even amidst global geopolitical turbulence.
This was the common message that heads of international institutions delivered at a meeting with the Vietnamese government in Hanoi on the macro-economic situation.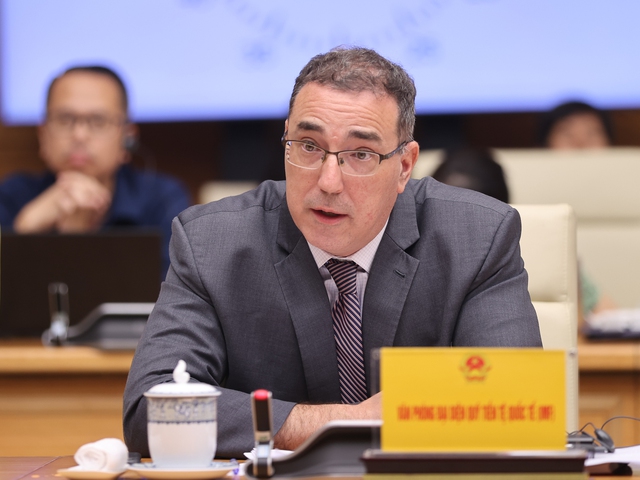 Francois Phainchaud, IMF resident representative in Vietnam, said his agency had raised its growth forecast for Vietnam this year, and the country was the only Asian economy seeing a significant upward revision.
The institution in early September revised up its Vietnam growth prediction to 7% this year, lifting it by a full percentage point from three months earlier. Growth estimates for Asia were lowered to 4.2%.
The country's economic expansion in 2023 was estimated at 6.7%, a lower figure due to the high growth rate in 2022, but this is still a very high level compared to other regional countries, especially Asian nations, according to Phainchaud.
Andrea Copppla, WB chief economist in Vietnam, commented that the country's economic recovery was rapid and impressive.
But he stressed that Vietnam needs a policy balance for both economic recovery and inflation control, given global uncertainties like high inflation, the Russia-Ukraine conflict, and rising prices of input materials and labor.
Copppla suggested reasonable fiscal policies, efficient use of economic recovery support packages, monetary policy caution and structural reforms as solutions to help the country ride out difficulties.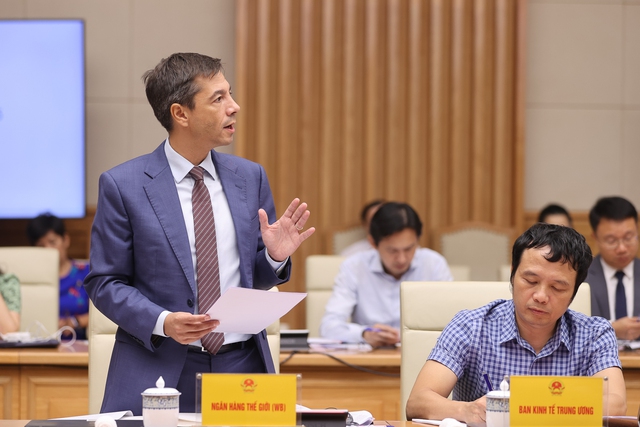 Andrew Jeffries, ADB country director in Vietnam, said the country's resilient post-pandemic recovery opens up bright prospects for its investment and business environment.
ADB announced Friday a new country partnership strategy for Vietnam for 2023-2026 that it said will help promote inclusive, green and private sector-led development, building a foundation for Vietnam to achieve its goal of becoming upper middle-income nation by 2030.
The bank's new partnership strategy for Vietnam is anchored on the recognition that the country needs tailor-made solutions to best meet its development challenges. It also takes a provincial focus as this is where Vietnam's development needs are greatest, ADB said in a release.
Ramachandran A.S., AmCham representative, highlighted that Vietnam's rating upgraded by Moody's from positive to stable would help boost investor sentiment and FDI attraction.
"This is a market with high GDP growth and low inflation. We highly appreciate the government's action to address the challenges derived from the global economy," he said at the meeting.
The Citi Vietnam country officer said AmCham members wanted to join Vietnam's transition to clean and green energy and were seeking cooperation in innovation.
There needed to be mechanisms for renewable energy that fit markets as well as encouragement for the private sector's involvement in energy transition, including green financing, Ramachandran said.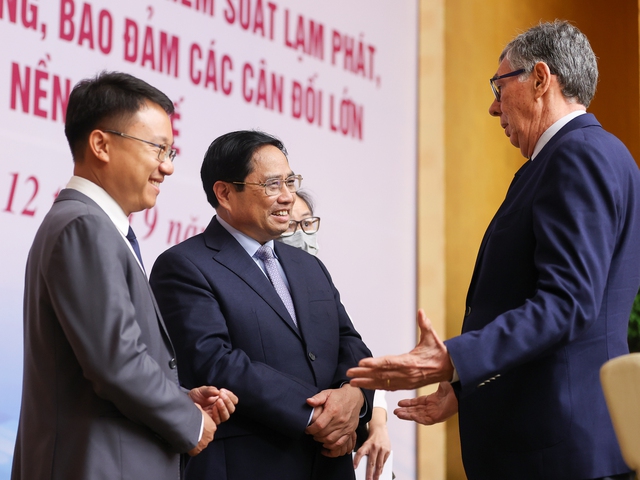 EuroCham chairman Alain Cany noted that the indices of Vietnam's economy continue to be stable while neighboring countries were facing difficulties. "We believe that Vietnam has managed the challenges efficiently."
He recommended that Vietnam opens up further because the economy has room for further growth.
Vietnam's target of carbon neutrality by 2050, committed by the Vietnamese Prime Minister at the COP 26 last year, would help the country become an outperformer in attracting foreign investments, Cany said.
The EuroCham chairman suggested that the government encourages banks to provide green financing, expands public-private partnership mechanisms, eases visa policies and continues administrative reforms.
Also at the meeting, Shimizu Akira, JICA chief representative in Vietnam, said the Japanese agency was in a position to work with the government on future development projects. He said the Japanese government and businesses were ready to speed up cooperation with the government and enterprises in Vietnam in developing energy and electricity projects.
Japan was providing the Vietnamese government with a lot of support to boost supporting industries, but there were some regulatory bottlenecks, he added.
Cho Han Deog, Koica country director in Vietnam, said many South Korean companies were eager to invest in green technology, but there was a gap between investment ideas and implementation. He said more policies should be introduced to further promote green production.
Deog noted that although Vietnam's economic growth was very good, there was still a gap between rural and urban areas. "Development needs to be more equitable and inclusive in order to distribute the benefits of growth better. In particular, more attention should be paid to rural development."
Prime Minister Pham Minh Chinh told the forum that the world was undergoing geopolitical turbulence and complications, with the Russian-Ukrainian conflict showing no signs of ending. "These factors have short-term and long-term effects on the global economy as well as Vietnam."
In this difficult context, Vietnam has actively found ways to ensure macroeconomic and development goals are met, Chinh said.
"The country still maintains macroeconomic stability in the context of many major economies being unstable, facing risks and recession. Inflation is under control, while the domestic capital and money markets are stable," he noted.