Vietnam GDP growth tops Southeast Asia: ADB
Wed, September 21, 2022 | 2:29 pm GTM+7
Vietnam's GDP growth is estimated at 6.5% for this year and 6.7% next year on strong economic fundamentals, key to fast recovery, Asian Development Bank (ADB) said Wednesday.
The 2022 figure is the highest in Southeast Asia and equals the Philippines'.
"Vietnam's economy recovered faster than expected in the first half of 2022 and continues to grow amid the challenging global environment," said ADB country director for Vietnam Andrew Jeffries.
The steady recovery was supported by strong economic fundamentals and driven by a faster-than-expected bounce back of manufacturing and services, he told a press meeting in Hanoi.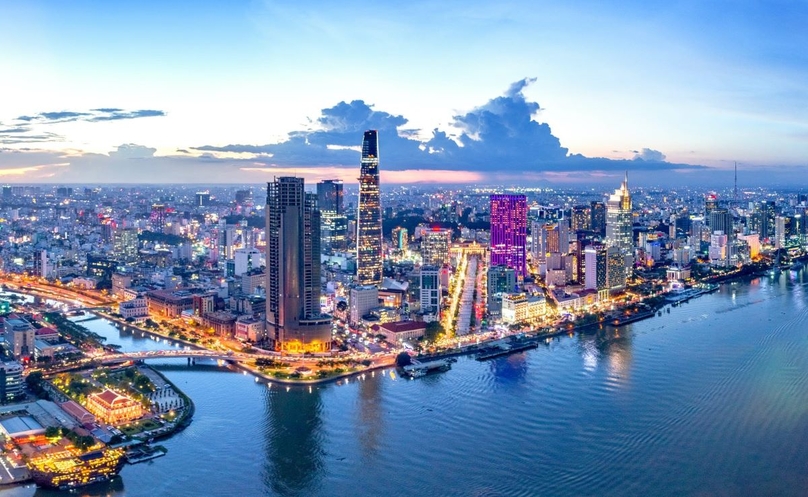 The manufacturing industry is set to grow 8.5%, versus the previous forecast of 9.5% due to the downtrend in global demand. However, the outlook for the manufacturing sector remains bullish given strong foreign direct investments in the sector, according to the bank's newly-released Asian Development Outlook (ADO).
The removal of Covid-19 movement restriction will support rebound in tourism, leading to 6.6% growth in the service sector, up from the former projection of 5.5%.
Global food shortages and the recovered food supply chains in Vietnam will boost agricultural production this year, estimated at 3%, lower than the previous prediction of 3.5% due to high input costs.
The country's inflation is anticipated at 3.8% in 2022 and 4% in 2023, the ADB said, adding that all figures are the same as in the report released in April.
The country's economic outlook continues to face heightened risks, the bank argued. The global economic slowdown could weigh on Vietnam's exports. Labor shortage is expected to weigh on the fast recovery of the services and labor-intensive export sectors in 2022.
The slow delivery of planned public investment and social spending, especially implementation of the government's Economic Recovery and Development Program, could slow growth this year and the next, it added.
In a report released in July 21, the ADB maintainted its prediction for Vietnam's economic expansion this year at 6.5%, while revising down its forecast for developing Asia and the Pacific to 4.6% from 5.2% in April.
On July 12, Standard Chartered Bank put its GDP growth forecast for Vietnam this year at 6.7% and 7.0% for 2023. The country's inflation is predicted at 4.2% and 5.5% respectively.
HSBC revised up in early July its Vietnam GDP prediction for 2022 from 6.6% to 6.9%, while IMF put its estimation at 6%.
Vietnam's economic expansion in the first half of the year was 6.42%, higher than the 5.1-5.7% target, official data shows. It aimed to achieve GDP growth of 7% this year, higher than the previously-set target of 6-6.5%, Minister of Planning and Investment Nguyen Chi Dung told a government meeting on July 4.
In response to The Investor's question about FDI attraction in China and Vietnam amid the global trend of diversifying supply chains, ADB country director for Vietnam Andrew Jeffries said China's investment environment is distorting because of severe Covid-19 lockdowns and many planned and in-progress investments have been put on hold.

"The trend of diversifying the supply chain is a very real one due to what has happened and is happening regarding the pandemic, microchip shortages, issues with commodities from the Russia-Ukraine war, and is severely affecting a number of industries, such as the auto industry and others," said Jefferies.

The trend of diversification is very real, but it won't be slow, steady and predictable, with ups and downs overtime, he added.

ADB principal country economist Cuong Minh Nguyen noted that China's economy is huge, thus multinational corporation's shifting away from China completely is unlikely.

"In the long-term, an integrated and sustainable economy between China and the Southeast Asia, with diversification in the supply chain, is inevitable," he added.

Jefferies added that in Vietnam, compared to regional nations, things are good. Many countries are facing serious debt problems, finding it much harder to recover from the pandemic and suffering more severe impacts from the pandemic.

"There is no serious risks to FDI in Vietnam. The country has many trade agreements with major economies, and investments in Vietnam give you access to not only the country but also the ASEAN. Moreover, with the growing middle-income group, Vietnam is becoming a better market itself," he added.