Vietnam economy to expand 10% in Q3: VinaCapital
Wed, August 10, 2022 | 10:36 am GTM+7
Investment management firm VinaCapital expects Vietnam's GDP to grow at least 10% in the third quarter and 7.5% the whole year.
"Our expectation that Vietnam's economy will grow by at least 7.5% this year (and by at least 10% in the third quarter) leads us to believe that the consensus forecast for 16% earnings growth this year in Vietnam is too conservative," it said in an August report, referring to the stock market.
"We expect earnings growth to exceed 20% this year, supported by Vietnam's solid economic performance, in stark contrast to the U.S. stock market, where earnings growth expectations look unrealistically high, especially given that country's deteriorating economic outlook."
According to VinaCapital, the year-on-year surge in Vietnam's retail sales has accelerated throughout the year, clearly illustrating that economic growth is being mainly driven by domestic consumption.
Between January and June, the country's real retail sales (excluding the impact of inflation) grew 7.9% year-on-year, and this surged to 11.9% in the first seven months, far above the 7% growth that it had previously forecast for the year.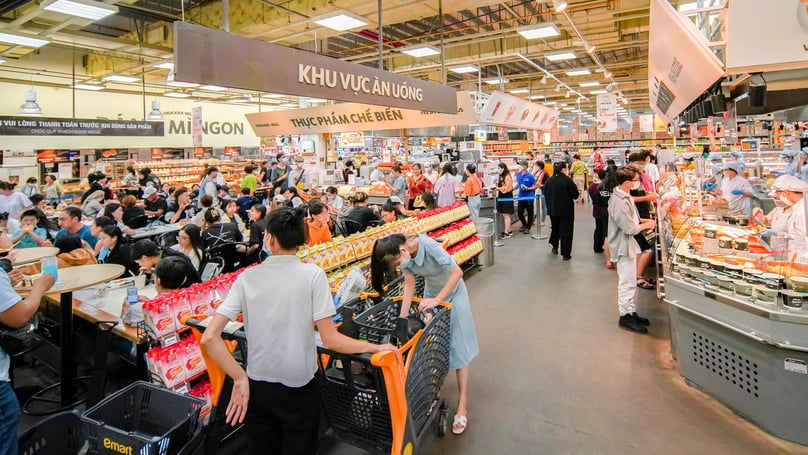 "This is important because we are often asked now whether the ongoing slowdown in the U.S, economy - which is Vietnam's biggest export market - will weigh on Vietnam's economic growth. The short answer is while a slowing U.S. economy is likely to temper Vietnam's export growth and economic growth, the impact of that slowdown will be more than offset by Vietnam's strong domestic economy," the firm said.
"Vietnam's economy is even stronger than we had expected at the beginning of the year, but that strength is not reflected in higher stock prices because of the U.S. Fed's aggressive rate hikes and the recent regulatory crackdown in Vietnam. That said, we expect over 20% earnings per share (EPS) growth in 2022, which should support a recovery in the VN-Index by the end of 2022."
The company's chief economist, Michael Kokalari, noted that a 36% surge in corporate earnings had driven the index up 37% in 2021.
The World Bank on Monday upped its GDP growth estimate to 7.5% for the year, much higher than the 5.8% it forecast early June.
Growth drivers are expected to pivot from external to domestic demand, and from manufacturing to services, according to the bank.