Vietnam market valuation very attractive: leading broker
Fri, September 2, 2022 | 3:21 pm GTM+7
Vietnam's market valuation is very attractive to long-term investors who are looking for well-governed businesses with strong profit growth, says VNDirect.
As of August 26, 2022, the VN-Index is trading at a price to earnings ratio (P/E) for the last four quarters of 13.5 times, down 22% from this year's peak and 17% from the five-year average, according to the firm.
"Vietnam also stands out among frontier markets with high earnings per share growth in the period 2022-2024, resulting in a forecast P/E for 2022 of 12.2x and the figure for 2023 is 10.4x, much lower than the recent five-year average P/E of 16.4x," its latest market analysis notes.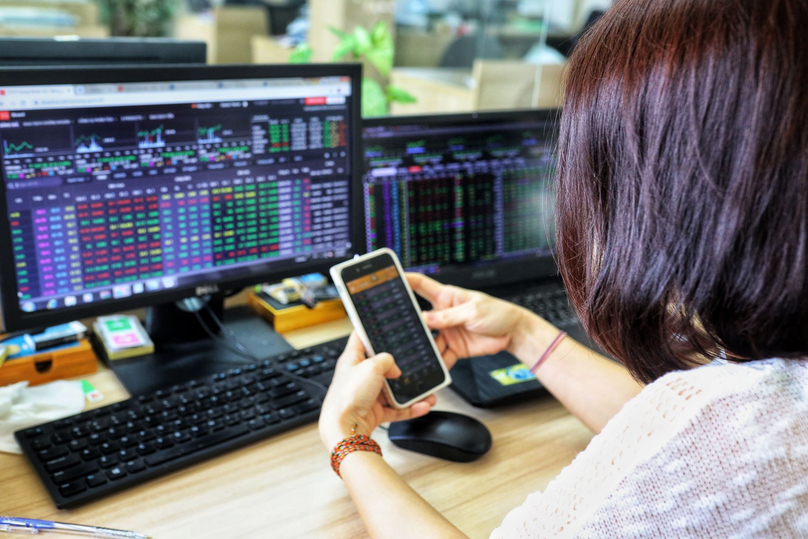 The Vietnamese broker said the local stock market may face a correction in September, which would help investors make adjustments to their portfolios for the fourth quarter and next year.
"The VN-Index, the market's benchmark, is approaching a strong resistance area of 1,300-1,330 points this month. Therefore, short-term investors should not let themselves be caught off guard in the short-term correction."
Since bottoming in mid-July, the index has consolidated the recovery trend in August. VNDirect said the regain is driven by three factors.
First, inflation tends cooling down in the U.S. and Vietnam. Second, market sentiment has improved with the hope that the U.S. Federal Reserve will ease its interest rate hikes in the fourth quarter. Third, the uptrend is fueled by the return of speculative money.
This August's average transaction value of Vietnam's three exchanges - HoSE, HNX, and UpCOM - increased by 35.7% on July but decreased 36.1% year-on-year, reaching VND18,560 billion ($790 million). Notably, foreign investors shifted to net buying from net selling, with net purchasing recorded at about VND1,600 billion ($68.19 million) in August.
VNDirect maintained its forecast on Vietnam's economic expansion at 7.1% for this year.
The broker estimates this third quarter's GDP growth to be 11% year-on-year, saying this rate is high because last year's third-quarter growth was minus 6% due to the pandemic, while Vietnam's service sector has recently seen a strong rebound, with the government seeking to accelerate its post-pandemic economic recovery program.
However, the national economy still faces potential risks like export slowdown due to reduced demand, high inflation pressure, and interest rate increases at the end of the year.
The report also mentioned credit growth caps in the Vietnamese banking system, which is governed by the central bank. "We expect the State Bank would lift credit growth caps for a number of commercial banks from the end of the third quarter. However, we believe such increases will be not high and be different from case to case."
Deposit interest rates are predicted to go up in the coming months as a result of the central bank's easing credit growth limits for commercial banks.
As for the bond market, the market is waiting for the government's issuance of amended Decree No.153, expected to make the capital mobilization channel healthier. The channel has shown its increasing significance in Vietnam, especially among companies in the south, the firm said.
Another point stock investors need to pay attention to is the shortening of the payment time. Cutting down the time to T+2 will help them react faster to changes in the economy and financial market, boosting investment efficiency and reducing transaction costs.
T+2 will also help enhance market liquidity, gradually bring the Vietnamese stock market closer to international standards and global emerging market status, it noted.
For September, VNDirect recommends stocks like BCG (Bamboo Capital Group), DXG (Dat Xanh Group), MBB (MB Bank), PNJ (Phu Nhuan Jewelry Co.), SZC (Sonadezi Chau Duc Co.), and VTP (Viettel Post).