Vietnam real estate market offers competitive yields: Knight Frank
Wed, August 24, 2022 | 3:19 pm GTM+7
House prices in Vietnam are much more affordable, and real estate sectors in the country provide competitive yields compared to other Southeast Asian countries, says Kevin Coppel, managing director of property consulting firm Knight Frank Asia-Pacific.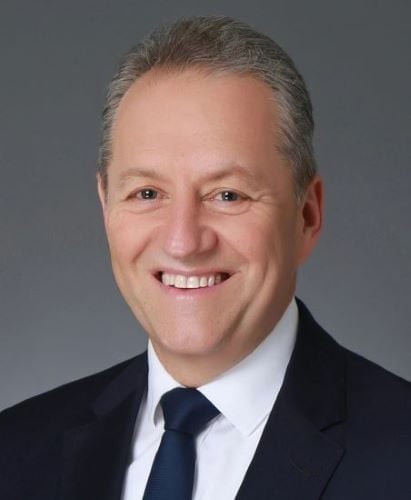 Do you think Vietnam's real estate market is in danger of blowing up like the property market in China?
The fundamentals in China and Vietnam are vastly different. The Chinese property sector crisis was provoked by the 'three red lines' regulations introduced in 2020, which placed debt limits on real estate companies to curb rapidly rising housing prices. Before these regulations, Chinese developers used debt extensively and often borrowed more than what was needed for a particular project to fund other investments. They were confident of repaying these debts since demand had always outpaced supply.
In contrast, Vietnamese banks have limited capabilities to lend - 15% of bank capital to a single borrower and 25% to a group borrower (Law on Credit 2010, Amended 2018) - and investor equity must account for at least 20% of the total investment capital in a real estate project with a land usage area under 20 hectares. This reduces to at least 15% if a real estate project uses 20 hectares of land or more (Government Decree No.02/2022).
Furthermore, Vietnam is tightening credit right now as a cooling measure, with the State Bank of Vietnam in January 2022 seeking with its Directive No.01/CT-NHNN to compel direct lender capital away from sectors perceived as risky- like real estate - into production and manufacturing. The intent is for a draft amendment to Circular 39 to be ratified this year, which will further build on existing regulations, codifying further debt related ratios like loan to collateral and total debt ratios.
Major banks are also reporting that they are near State Bank of Vietnam mandated credit limits for commercial lending, which makes it difficult for real estate businesses to continue to borrow. This is a different approach compared to China, which allowed developers to borrow heavily.
Although Vietnam is currently experiencing rapid urbanization, similar to the socioeconomic trends seen in China in recent decades, the danger of a real estate bubble developing to the same extent in Vietnam is limited as long as policies that limit the potential for the market to "overheat" are implemented.
It helps that Vietnam adopted an inclusive growth model, where the growing need for affordable housing is being satisfied by proactive planning regulations that require a proportion of some developments to be allocated to both affordable and social housing. The prices of which are controlled in order to keep them accessible to much of the population.
What is your assessment of investment inflows into Vietnam's real estate sector compared to other Southeast Asian countries?
Real estate sectors in Vietnam generally command competitive yields compared to counterparts in Southeast Asia. Industrial and office spaces are still highly sought-after due to their solid growth trajectory, while residential, retail, and hospitality sectors are steadily recovering post-pandemic.
The positive growth trajectory relies on continued, strong economic growth, continued urbanization, a rising middle class and the development of mega projects in both major cities like Ho Chi Minh City and Hanoi and the surrounding key provinces.
What do you think about Vietnam's current rules on foreign ownership in the housing sector, and how do they compare to those in other ASEAN countries?
In line with other countries in Southeast Asia, the most popular way to access the Vietnamese residential sector is through the condominium market. Like most of the region's emerging markets, aggregate foreigner ownership limits are capped - at 30% in Vietnam (Government Decree No.99/2015), compared to 40% in the Philippines and 49% in Thailand (although at higher thresholds).
However, the main aspect in which Vietnamese regulations are tighter is in the tenure for foreign ownership, which is currently capped at 50 years; any extension will require a renewal payment to be made in an upfront sum, or annually.
The mechanism to calculate the payment for a renewal is not known yet. This can cause buyers to think twice as longer-term options are generally available in other markets (e.g., Singapore and Malaysia permit 99-year leasehold interests). While foreign ownership rules in Vietnam can still be considered reasonably restrictive, they have come a long way since the government took steps to liberalize the market in 2014. As in most countries, property ownership is politically sensitive and can have a broad socioeconomic impact. While the Vietnamese government will remain cautious, it has been proactive with reforms, and we expect it will continue gradually to liberalize the market as the economy develops.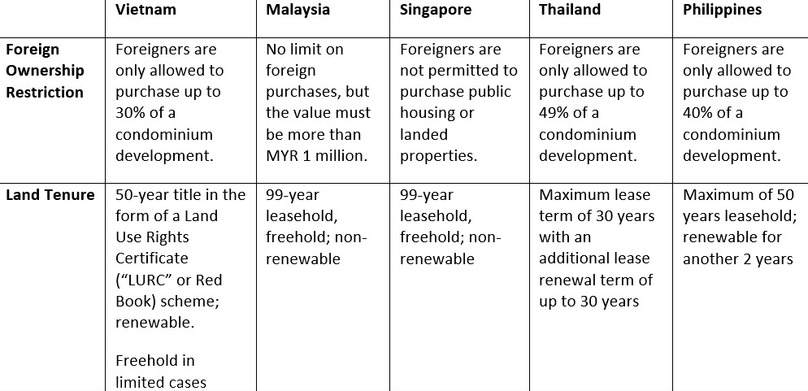 Compared to other ASEAN countries, house prices in Vietnam are much more affordable. With borders reopening, the gradual resumption of regional travel will boost residential sales, especially from South Korea (the biggest expatriate community in Vietnam), Singapore, and the Chinese mainland.
How does and will the UK-Vietnam Free Trade Agreement (UKVFTA) support the two countries' economic, investment, and trade ties from your perspective as a UK consulting company?
According to Vietnam Customs, bilateral trade between Vietnam and the U.K. reached $6.6 billion in 2021, up 17.2% compared to 2020, while British exports reached $849 million, up 23.6%.
In the first five months of 2022, despite the ongoing impact of the COVID-19 pandemic and geopolitical tensions leading to disruptions in global production and supply chains, bilateral trade remained stable at $2.68 billion.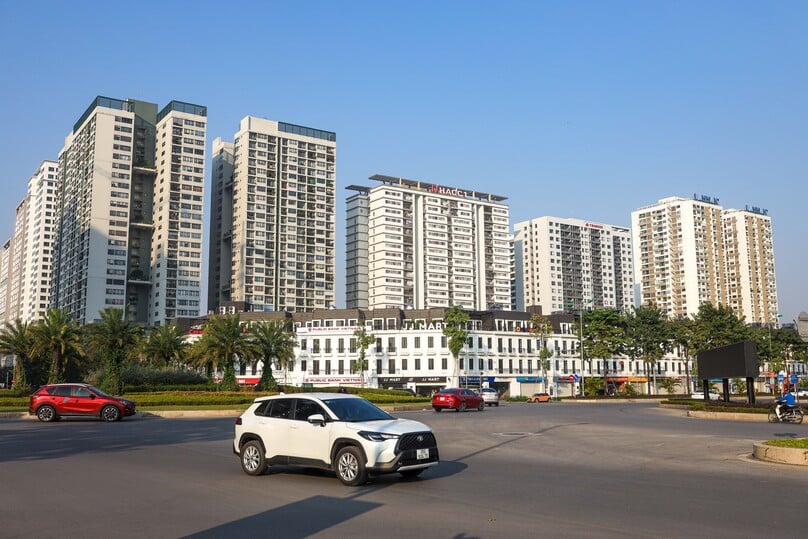 As of May 2022, the sectors with the strongest investments in Vietnam are:
- Manufacturing and processing (120 projects and registered investment capital of nearly $1.6 billion, accounting for nearly 40% of total investment capital).
- Real estate (23 projects and total investment capital of $1.04 billion, accounting for 26% of total investments).
- Mining (seven projects with a total registered capital of $701.44 million, accounting for 18% of total investments)
Valid registered investment capital from the UK totaled $4.15 billion with 462 investment projects in Vietnam.
We have also seen some major investments in renewable energy, including:
- Shire Oak International Group with many solar power projects in Vietnam
- Enterprise Energy Group is investing in the Thang Long wind project off Ke Ga cape - Binh Thuan
- Mainstream Group is investing in the Phu Cuong wind power project Soc Trang
The collaboration with UK.firms will see mutual benefits for both countries through:
- Commitment to service and investment: Vietnam is committed to providing higher incentives for U.K. service providers and investors under the UKVFTA than the standards currently applied to other service providers and foreign investors under WTO commitments.
- Commitment to intellectual property: U.K. IP owners have access to a range of tools to strengthen their IP protection in Vietnam. For example:
+ IP owners can request the Vietnamese court to apply temporary, urgent measures to promptly prevent infringement at any time.
+ Customs authorities must actively participate in preventing IP infringement and must cooperate with IP owners to enforce IP rights.
+ Proportional monetary remedies may be provided as an alternative to other sanctions if the breach was caused by negligence.
- Commitment to taxation: The two sides agreed to immediately cut 65% of the number of tariff lines when the UKVFTA takes effect. This means an increase of up to 99% of tax lines to be cut after six to nine years.
Not only will the UKVFTA boost GDP growth, but also help diversify Vietnam's sources of foreign direct investment, which has so far been dependent on countries within the Asia Pacific region and largely focused on electronics and real estate.
With a number of U.K. companies known for their expertise in pharmaceuticals, aerospace as well as renewable energy, Vietnamese firms will benefit from technology transfers and learn to create a more vibrant industrial base that will lead to more opportunities globally.