Gloomy atmosphere overwhelms southern Vietnam property market
Tue, August 16, 2022 | 1:01 pm GTM+7
All segments in southern Vietnam's real estate market, from land plots and apartments to townhouses and villas, are gloomy as both supply and consumption are at very low levels.
Customers are mostly taking a wait-and-see approach.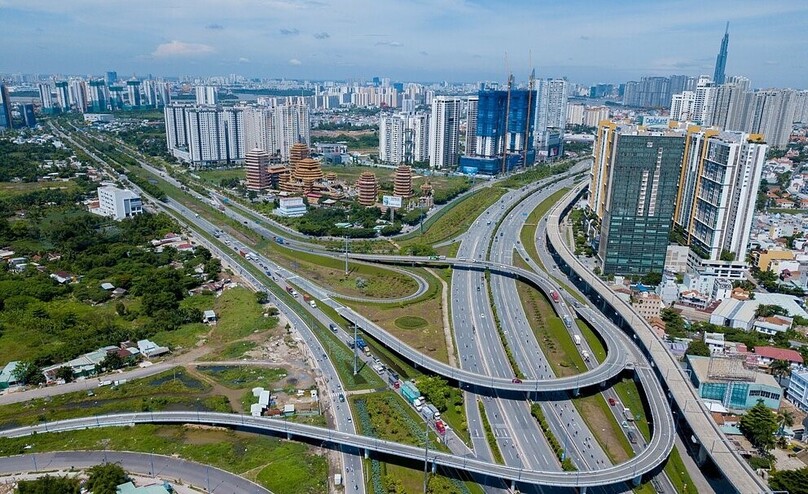 Land plots
Data from real estate consultant DKRA Vietnam shows that, in July, in the land plot segment, supply recorded an increase of about 49% over June, but remained quite low compared to the period preceding 2019.
Specifically, there were six projects for sale, including two new and four next phase, providing the market with 857 plots. Of these, 410 plots were sold. New supply mainly stemmed from Binh Duong province, which neighbors Ho Chi Minh City.
Sales in this market segment reached 48% of supply, down 6% against June and 26% against May. The reasons were that the State Bank of Vietnam had not taken any action to extend credit room and information on amendments to the Land Law made investors more cautious.
Selling prices in the secondary market increased by 7-11% compared to the end of last year, however, liquidity decreased largely due to strengthened credit control. It is forecast that in the coming months, supply and consumption would continue to fall, mainly in Binh Duong and Long An, both near HCMC.
Apartments
For the apartment segment, new supply concentrated in HCMC and Binh Duong. The southern economic hub took the lead by accounting for 62% of supply and 70% of market consumption. Meanwhile, Long An, Dong Nai, Ba Ria-Vung Tau and Tay Ninh saw a shortage in new supply in July.
In July, 13 projects, including one new and 12 next phase, supplied the market with 2,159 units, of which 1,171 were sold.
According to DKRA, low demand in this segment prompted investors to continuously launch policies on discounts, payment rescheduling, and extending the grace period for loan principal and interest repayment to stimulate buyer demand.
In Binh Duong, supply in the month was mainly Grade B apartments, with prices ranging from VND30-46 million ($1,970) per square meter.
The price in the primary and secondary markets did not see many fluctuations with low liquidity, influenced by tightened credit control as well as concerns over future macro developments.
In HCMC, the apartment segment saw the presence of seven projects, with 1,345 units offered and 819 units sold. The city's eastern part, Thu Duc city, continued to lead the market, making up 56% of the supply and 61% of consumption in July.
Grade A apartments maintained their leading position, with prices ranging from VND60-85 million ($3,630) per square meter, accounting for 63% of the total new supply.
The absorption rate of new projects was at its lowest level since the beginning of the year, at only 40-60% of the total units offered in the month. Meanwhile, affordable Grade C apartments remained absent.
Townhouses, villas
In the townhouse and villa segment, there were 16 projects, including five new and 11 next phase, providing the market with 2,097 units, of which 926 units were sold.
Supply recorded a strong growth year-on-year, but only concentrated in certain projects in Binh Duong and Dong Nai. Ba Ria-Vung Tau and Tay Ninh continued to experience a new supply shortage.
Consumption recovered in July over the same period last year, but was still low, mainly in projects in Tan Uyen and Ben Cat towns of Binh Duong.
The selling price in the primary market increased slightly by 2-4% compared to the previous period (each period being one to three months apart), with many preferential policies applied by investors to attract customers.
Projects with selling price of less than VND5 billion ($214,000) per unit attracted attention. Supply and consumption are expected to continue falling significantly in August and concentrate in Binh Duong and Dong Nai, DKRA noted.
In HCMC, supply was mainly seen in the city's eastern part, accounting for 59% of the metropolis's total supply. There were four projects opened for sales, one new and three next phase, offering 167 units, of which 93 were sold.
Overally, the consumption-to-supply ratio of this segment reached 42% with a total of 141 units absorbed by the market.