Vietnam's first private power transmission projects at risk of 'dying'
Tue, September 20, 2022 | 10:26 pm GTM+7
The Thuan Nam 500 kV substation and 500 kV Thuan Nam-Vinh Tan transmission line in the central province of Ninh Thuan are at risk of "dying" as their investor, Trungnam Group, is facing huge financial difficulties.
Trungnam Group is now at stake after state-owned Vietnam Electricity (EVN) announced late last month it would cut the utilisation rate of power produced at the group's largest solar farm by 40% due to the lack of a pricing mechanism.
Accordingly, the EVN has stopped purchasing 172,12 megawatts of solar power without a pricing mechanism from the 450 MW Trung Nam-Thuan Nam solar power plant in Ninh Thuan since September 1.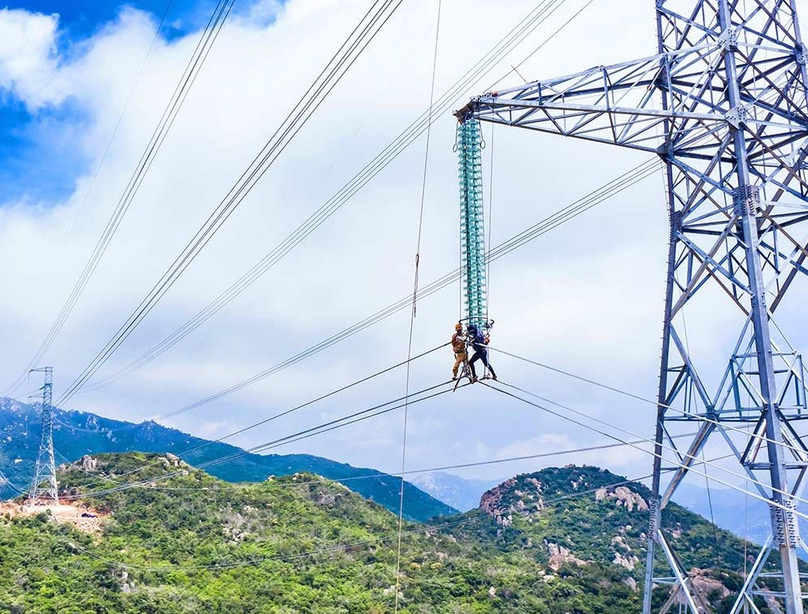 The substation and transmission line are the first power transmission projects invested by a private firm in the country. They were built in Ninh Thuan by Trungnam Group at a total cost of nearly VND2 trillion ($84.48 million), which is expected to be offset by sales from the full exploitation of the 450 MW solar power plant.
After nearly two years of stable operation, the projects have effectively transmitted more than 4 billion kWh of electricity. This figure shows their importance in successfully turning Ninh Thuan into a national energy center.
Since it became operational in October 2020, the 500 kV substation has always been an important link in power transmission in Ninh Thuan. Its operation has supported EVN in ensuring power transmission and benefited many other power projects in the province.
The 40% cut in the utilization rate of power at the Trung Nam-Thuan Nam solar power plant will cause huge financial difficulties for Trungnam Group as it breaks the investor's commitment on the financial plan approved by credit institutions, leading to the project's inability to repay loans.
Since Trungnam Group is using its own finance to operate the substation and transmission line, the power usage cut would significantly impact these two projects as well as the power plants that are using the services of these two facilities.
For example, the BOT Van Phong 1 Thermal Power Plant in the neighboring province of Khanh Hoa is expected to be put into operation and connected to the national grid through the Thuan Nam substation.
According to EVN, if the Van Phong 1 project fails to meet the schedule due to problems related to the substation, Vietnam will have to pay about $1 million each day in compensation for its investor - Japan's Sumitomo Group. If its progress is more than six months beyond schedule, the BOT contract between the Vietnamese government and Sumitomo Group will come to an end.
Founded in 2004, Trungnam Group has grown into a large private corporation with a multi-industry ecosystem that includes five areas: energy, infrastructure-construction, real estate, information technology and electronics.
It has entered a new era of successful and sustainable development thanks to large-scale renewable energy projects, contributing 1.63 gigawatts of energy to the national grid by October 2021. Trungnam Group aims to become a large corporation in Vietnam and reach out to Southeast Asia.