Audit firm doubts Vietnam Airlines can sustain operations
Thu, September 1, 2022 | 11:10 pm GTM+7
With its short-term debt exceeding short-term assets by VND36,425 billion ($1.55 billion) and negative equity hitting VND4,900 billion ($209 million), Vietnam Airlines will find it difficult to sustain its operations.
This is the opinion of Deloitte Vietnam, as mentioned in the mid-year financial statement of Vietnam Airlines.
The ability of national flag carrier Vietnam Airlines to continue operating will depend on financial support from the government, extension of payment deadline for loans from banks as well as payables to suppliers and lessors, the auditing firm says.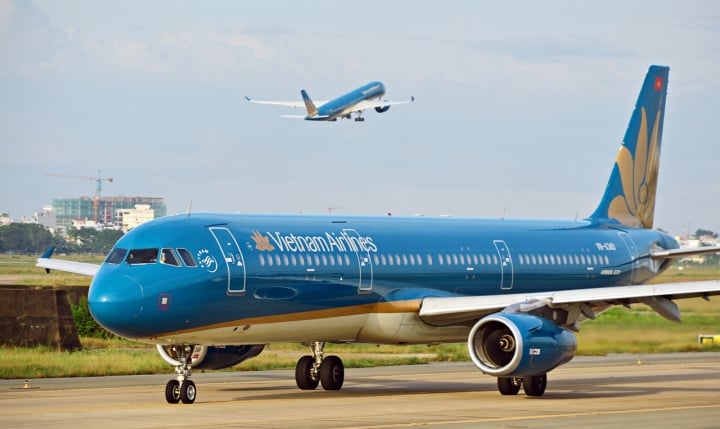 Concerns about the airline's ability to continue operations were also expressed by Deloitte Vietnam in its 2021 audit report.
In second quarter of 2022, Vietnam Airlines lost VND2,568 billion ($109.5 million), an improvement compared to the VND4,451 billion loss in the same period last year. This was the 10th consecutive quarter the carrier had reported a loss.
In the first half, the company earned revenues of more than VND30,000 billion ($1.28 billion), double the same period last year. However, due to high fuel prices and dormancy of many international routes, its losses mounted to over VND5,100 billion ($217.4 million), down more than VND3,000 billion compared to the same period last year. By June 30, the airline's accumulated loss hit VND28,900 billion ($1.23 billion).
To improve its operating capital situation, the carrier issued 796.1 million new shares in 2021 for proceeds of VND7,961 billion ($339.31 million). It also signed a loan contract and was disbursed VND4,000 billion with repayment period extendable to 2024.
Vietnam Airlines has also been negotiating with commercial banks for more credit lines for production and business activities. As of June 30, the total credit limit that Vietnam Airlines had signed with commercial banks was about VND18,549 billion ($790.6 million), of which unused short-term loans was VND10,354 billion.
The national airline has also sought other sources of income including liquidation of aircraft, aircraft engines and financial investments. It has sold one aircraft and, the right to buy and lease back one aircraft engine; liquidated its investment in Cambodia Air, the national airline based in Phnom Penh, Cambodia, and collected more than VND860 billion ($36.65 million), a part of the total amount from the deals.
On the Ho Chi Minh Stock Exchange, the carrier's HVN share was priced at VND17,250 ($0.74) at the closing session on August 31.