Corporate bond market stagnant for eight months
By
Nhat Huynh, Huong Dung
Mon, September 19, 2022 | 8:31 pm GTM+7
After the market was tightened up over transparency concerns, the issuance of corporate bonds in Vietnam has slowed significantly, latest data shows.
There were 26 private corporate bond placements and one public offering in August, with total value exceeding VND14.2 trillion ($600 million), according to the Vietnam Bond Market Association (VBMA).
Of these, commercial banks ranked first in terms of issuance value with VND11.73 trillion, followed by real estate businesses, with VND1.8 trillion ($76.03 million).
The largest issuances in August were recorded at Vietcombank with VND1.5 trillion ($63.36 million); Fuji Nutri Food JSC and HDBank with VND1 trillion each.
After the previous years' booming growth, new bond issuances in non-banking sectors have been stagnant since April. Especially, the absence of corporate bonds offered by real estate companies showed that businesses were quite worried about tightened management measures, the VBMA noted.
In 2018-2021, the corporate bond market became very hot. In the first three months of 2022, this market was still quite active, with bonds issued via both private placement and public offering reaching VND61.9 trillion ($2.61 billion), up 34% year-on-year.
However, after the cancellation of more than VND10 trillion ($422.4 million) worth of bonds offered by Tan Hoang Minh Group's subsidiaries in early April along with the regulator's tightened supervision, inspection and punishment to make the market healthy, issuers and investors have become more cautious of this capital raising channel.
In April, 23 private placements were made by banks, making up 90.7% of the total value, and the rest by energy, transportation, manufacturing and financial businesses. Notably, real estate companies did not issue any bonds during the month.
In May and June, the corporate bond market gradually warmed up as businesses resumed bond issuances. In May alone, there were one public offering and 34 private placements with a total value of over VND24.1 trillion ($1.02 billion).
June saw one international offering worth $100 million by Vingroup - Vietnam's largest private conglomerate and 26 private placements with a total value of VND18.21 trillion ($769.2 million), VBMA data shows.
In July, there were 28 private placements with a total value of VND18.66 trillion ($788.2 million). Of which, banks took the lead with VND15 trillion, or 81% of the total value. Meanwhile, in the real estate sector, only Ha An Real Estate Investment JSC - a member of Dat Xanh Group, issued VND200 billion ($8.45 million) worth of bonds.
In the first eight months of 2022, banks led the market in terms of issuance value with about VND119.6 trillion ($5.05 billion), equivalent to 54.2% of the total value. Bonds of terms from one to three years accounted for 76.9% of issuance value in this group with nearly VND92 trillion.
Real estate businesses ranked second with over VND47 trillion ($1.99 billion), making up 21.3%. Novaland Group held the largest bond issuance value (VND9.86 trillion or $416.5 million), followed by Eagle Side Investment and Development JSC (VND3.93 trillion). The average interest rate of bonds offered by this group is nearly 10.2% per year.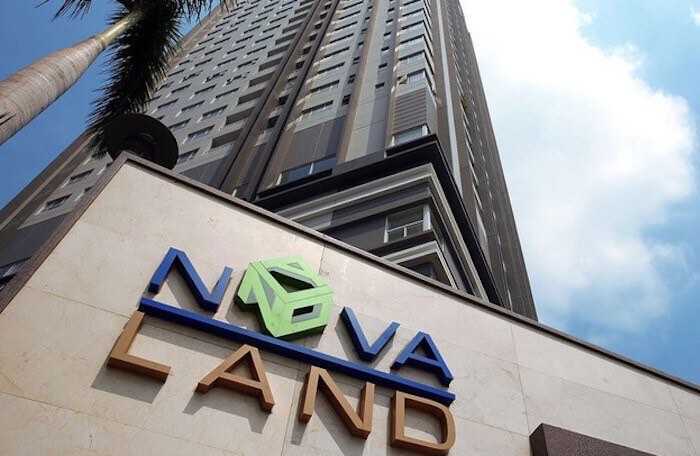 Maturity pressure
Ministry of Finance data shows that corporate bonds worth VND745.4 trillion ($31.48 billion) will mature from now to the end of 2024, including VND144.5 trillion in 2022, VND271.4 trillion in 2023, and VND329.5 trillion in 2024. Of which, real estate and credit institutions make up the largest proportion.
According to KB Securities Vietnam, the total value of maturing real estate bonds is VND120.4 trillion in 2023 and VND121.1 trillion in 2024. The broker believes that from the end of 2022 to 2024 will be a difficult period in terms of cash flow for real estate businesses with maturing bonds.
Similarly, FiinRatings also noted that the maturity pressure placed on businesses has been increasing in recent times as some of them face difficulties in fulfilling their debt obligations. In addition, the majority of issuers in the previous two to three years are unlisted enterprises, including those with weak financial health, no business history and no stable cash flow. Therefore, their credit profiles are not good or fail to meet the criteria for bank loans or other capital sources in the current context.
"The maturity value of real estate bonds at the end of this year will reach about VND37 trillion ($1.56 billion), of which unlisted enterprises account for the majority with 84% as compared with 16% of listed companies. Debt repayment pressure will continue to increase sharply in 2023-2024 and securing capital for debt reversal will become an urgent issue," said FiinGroup.
In this regard, Le Xuan Nghia, a member of the National Financial and Monetary Policy Advisory Council, said most enterprises with large corporate bond issuance volume have prepared resources for the upcoming maturing corporate bonds. Therefore, the risk of bond default is very low.
Echoing Nghia, Vo Tri Thanh, another member of the council, emphasized the low possibility of a breakdown in the corporate bond market, saying the revised Decree 153 will prioritize ensuring immediate cash flow, minimizing new risks, and step by step make a better foundation for the market in the long term.