Foreign, local retailers compete neck and neck in Vietnam
Mon, August 22, 2022 | 4:37 pm GTM+7
Vietnam's market size of almost 100 million people and fast economic growth are magnetizing both domestic and foreign investors, especially Asian majors.
Japan's largest retailer Aeon has emerged as a leader among foreign companies in the fierce race by utilizing a total $2 billion the giant announced in 2020 toward expansion in Vietnam, which it calls "the most significant market in Southeast Asia."
Aeon entered the Vietnamese market in 2013 and is operating six malls - two in Hanoi and Ho Chi Minh City each, and another two in Hai Phong and Binh Duong. It eyes 25 malls altogether across Vietnam by 2025, planning to place the new ones in Hanoi, Hai Phong (in the north), HCMC, Binh Duong, Dong Nai, Can Tho (in the south), and Hue (central region).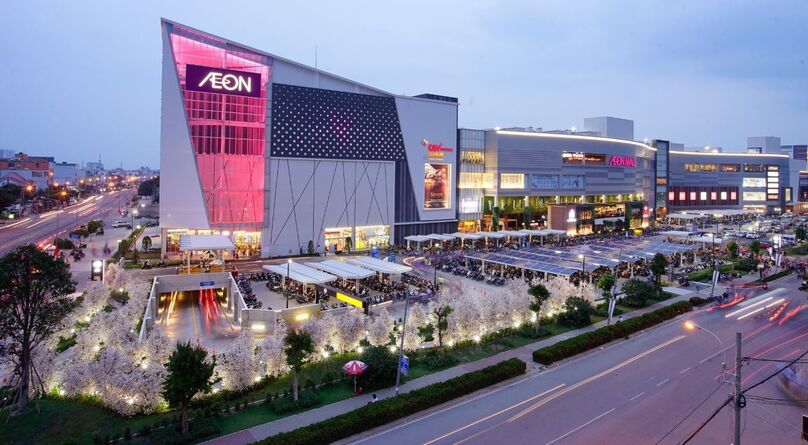 This July, U.S. e-commerce retailer and enabler Boxed inked a deal with Aeon Vietnam to launch its end-to-end software and services platform in the Vietnamese market by this year-end. Boxed said the deal would enable the pair to expand their business partnership, launched last September for the Malaysian market, into Vietnam.
"Aeon has been a great partner for us in Malaysia, and we are beyond excited to replicate our e-commerce synergy in such a dynamic, growing economy as Vietnam," Boxed CEO Chieh Huang said in a release.
Lotte Shopping, part of Korean giant conglomerate Lotte Group, is stepping out of China to focus on Vietnam and Indonesia. It operates two Lotte Department Stores and 14 Lotte Marts (as discount stores) in Vietnam, and just one Lotte Department Store together with 49 Lotte Marts in Indonesia since the second quarter, according to the company.
Lotte Shopping is closing its only Lotte Department Store left in China, located in Chengdu. The company operated five branches in 2016, but has closed them one by one. The decision to sell its Chengdu branch, the last, was made at a board of directors meeting in July, according to JoongAng Daily. Lotte Shopping said a buyer or a sales price has not been decided.
Lotte Engineering and Construction (E&C) is to break ground on the $900 million Thu Thiem Eco City project in HCMC on September 2. It will cover about 50,000 square meters of Thu Thiem Peninsula to contain a shopping mall, a hotel, office buildings, serviced apartments, and a residential complex. The name of the mall has not been disclosed.
Entering Vietnam in 2006, the Lotte construction unit has built Lotte Department Stores and Lotte Marts across the country, together with other developments. The E&C company said it plans to continue investing in more construction projects in the nation.
Emart, South Korea's largest retailer completed its franchise deal to transfer Emart Vietnam Co. to domestic multi-business giant Thaco in 2021, with only one operational department store in Vietnam. However, Thaco chairman Tran Ba Duong, at a meeting with Emart Vietnam suppliers earlier this month, said Thaco eyed at least 20 outlets across the country by 2026.
He added Emart was seeking to become one of Vietnam's leading department chains by that time, looking to an annual revenue target of $1 billion.
Under this franchising, Thaco manages, operates, and expands the Emart chain in Vietnam, while the Korean firm is in charge of the senior management team and maintaining the supply of branded products from Korea at competitive prices.
The expansion pace to 20 stores within five years is much stronger than the performance by the Korean company alone: only one outlet from 2015 to 2021.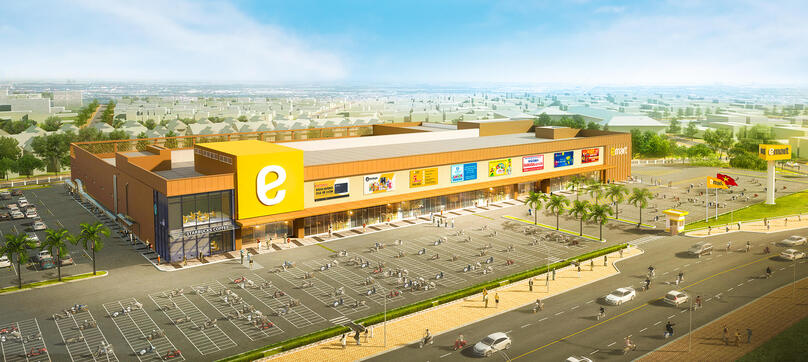 Thai duo
Unlike Aeon and Lotte, which have built brand-new establishments from the beginning, Thai majors Central Group and TCC Holding started their Vietnam journeys with merger and acquisition (M&A) deals.
TCC Holding, part of TCC Group, which is controlled by Thai beer tycoon Charoen Sirivadhanabhakdi, acquired German retailer Metro's Vietnam unit in 2015 for 655 million euro ($704 million), and renamed it MM Mega Market in early 2017. In December that year, the billionaire spent $4.8 billion buying a 53% stake in Sabeco, Vietnam's then top beer producer.
In Vietnam, the face value of each share is VND10,000 ($0.43) but the unit price TCC Group's ThaiBev paid in the deal was VND320,000, 32 times higher.
This March, Berli Jucker Plc., the retail unit of TCC Group, said it planned a total investment budget of 60-70 billion baht (up to $1.94 billion) for Southeast Asian expansions in the 2022-2026 period, meaning an average of 12-14 billion baht (up to $387.8) per year. Of the total, 70% will support retail business, while 30% will go to packaging, consumer products and healthcare.
Berli Jucker added it will open 2,091 modern retail stores across Southeast Asia during the five years, placing them in Thailand, Vietnam, Cambodia, and Laos. As for Vietnam, the firm said it would add 88 MM Food Service outlets in the period. The outlets are smaller in size than its department store brand MM Mega Market.
Berli Jucker CEO Aswin Techajareonvikul said that time his firm would put more focus on expanding the "Donjai" platform in Vietnam. Donjai is its new retail model that provides traditional trade store owners an opportunity to modernize their stores through cooperation with his company, while still maintaining full ownership.
In Vietnam, Thailand's Central Group acquired seven BigC department stores from Berli Jucker last year and has finished renaming all Go supermarkets. Central said this July that it would invest 30 billion baht ($828 billion) into Vietnam until 2026 to further drive its retail.
Currently, Central Group's Central Retail has 340 malls and stores in Vietnam with several brands like Go, Nguyen Kim, SuperSports and Top Markets, selling electronics, sportswear, and groceries, among others.
Central Retail hopes that its planned 30 billion baht investment would make it Vietnam's biggest food and property retail platform, the one it calls omnichannel.
Local retailer with foreign capital
As for expanding Vietnamese retailers, Masan Group is a leader via its consumer-retail platform The CrownX.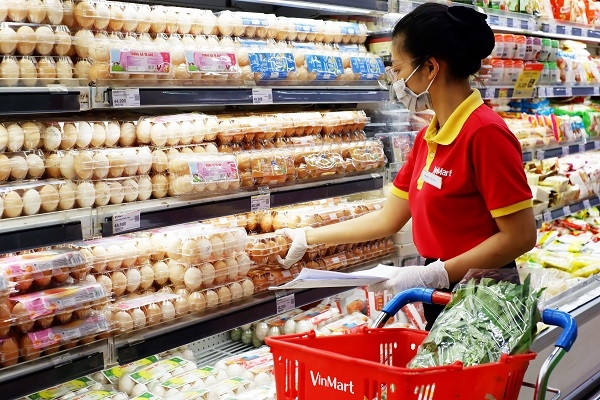 South Korea's third-largest conglomerate SK Group, which is setting sights on the Vietnamese market, said last November it was investing $340 million into the platform to hold a 4.9% stake in The CrownX.
Six months before that, The CrownX secured an investment of $400 million from a consortium led by China's Alibaba. Just one month earlier, SK spent $410 million buying a 16.3% stake in retailer VinCommerce from Masan Group.
VinCommerce used to belong to Vietnam's biggest conglomerate Vingroup, but was sold to Masan in 2019. After that, Masan set up The CrownX as its integrated consumer-retail platform by merging VinCommerce and Masan Consumer Holdings.
Masan operates in agriculture, food processing, coffee chains, retail, minerals, banking and financial services. It is strongly developing its "Point of Life" strategy, a concept of minimarts providing banking services, essential products, pharmaceuticals, food, coffee, tea and other beverages under one roof.
The major's vision in the strategy is to build an offline-to-online platform to help customers obtain the same experience whether sitting at home or shopping at stores.
Newly incorporated into Masan's stores and minimarts are medicines distributed by HCMC-based Phano Pharma Co, and mobile services provided by new telecommunication brand Reddi.