REE acquires $38.5 mln HSBC bank green loan for LEED-certified building
Wed, August 10, 2022 | 5:22 pm GTM+7
Vietnam's leading multi-business corporation REE has secured a green loan of VND900 billion ($38.5 million) from HSBC Bank Vietnam to complete its E-Town 6 building in Ho Chi Minh City.
The high-rise office building has earned the LEED Platinum certification for its sustainable design. LEED (Leadership in Energy and Environmental Design), created by the U.S. Green Building Council in 2000, is the rating system that assesses buildings based on its cost-saving, efficiency improvement, lower carbon emissions and healthier places, and LEED Platinum is the system's highest level.
This is the first time HSBC has arranged a green loan to finance a real estate project for a Vietnamese company.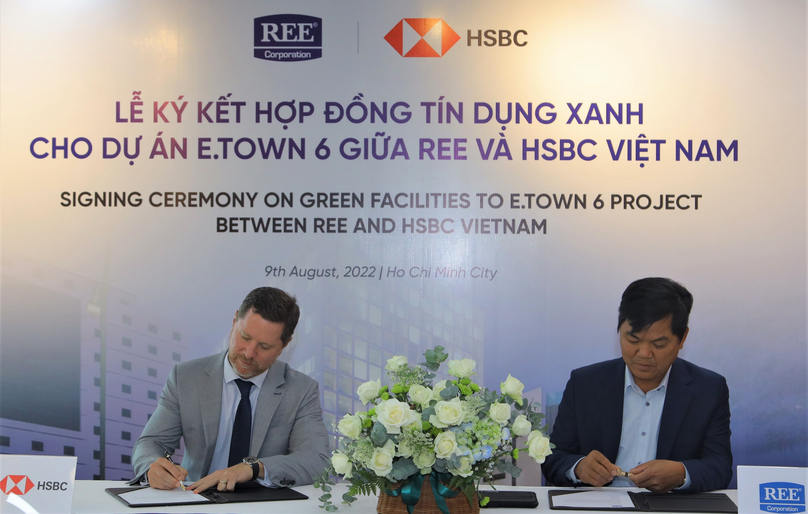 "We are very proud to play our part in a deal that marks another milestone for the green real estate sector in Vietnam. This is especially important when one considers that construction and real estate are responsible for up to 39% of all carbon emissions globally," said HSBC Vietnam CEO Tim Evans, who signed for the loan on Tuesday.
REE Corp. CEO Huynh Thanh Hai said: "E-Town 6 is our newest office building in the area of E-Town Cong Hoa campus, expected to come into operation in the second half of 2023... The green loan reaffirms the strong and long-term relationship between HSBC and REE, and illustrates our contributions to developing green business activities."
The $70 million-plus building includes five basements and 17 floors with a total area of 78,000 square meters. It is the largest building ever built by REE.
The seven-year term loan has reaffirmed HSBC's leading position in providing sustainable financial solutions to businesses in Vietnam.
The bank's green financing includes four core components namely use of proceeds, project selection and evaluation, management of proceeds, and reporting.
In 2020, REE SE and REEPRO, two REE subsidiaries, received the first dual green loans, worth a total of VND810 billion, from HSBC Vietnam to finance a major rooftop solar power project.
The bank is carrying out its commitment to arranging up to $12 billion of direct and indirect sustainable financing in Vietnam by 2030.