Samsung Vietnam reports $1.18 bln in Q2 profit
Wed, September 21, 2022 | 5:06 pm GTM+7
South Korean tech giant Samsung's four subsidiaries in Vietnam earned profits of KRW1,652 billion ($1.18 billion) in the second quarter, up 40.42% year-on-year.
As the country staged a post-pandemic recovery, Samsung's total Q2 revenues soared 45.91% to $16.23 billion, according to the tech giant's newly-released financial report.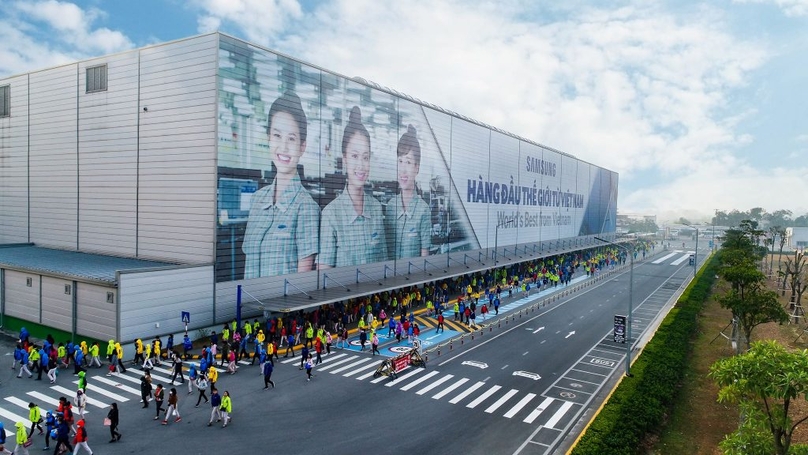 In the first half of the year, the four units had earned profits of $2.42 billion on revenues of $33.44 billion, up 29.77% and 32.59% year-on-year, respectively.
Of the four, Samsung HCMC CE Complex (SEHC) in Ho Chi Minh City was the best first-half performer, with profits of $1.39 billion on revenues of $14.73 billion, up 74.9% and 45.7% year-on-year, respectively.
It was followed by Samsung Electronics Vietnam (SEV), located in the northern province of Bac Ninh, whose corresponding figures were $665.4 million on $8.41 billion, up 5.8% and 24.26%.
Samsung Display Vietnam (SDV), also in Bac Ninh province, saw first-half profits plunge 55.35% year-on-year to $134.5 million on revenues of $7.75 billion, up 34.29%.
Samsung Electronics Vietnam Thai Nguyen (SEVT), located in the northern eponymous province, recorded profits of $234.6 million and revenues of $2.55 billion in the first half, up 64.2% and down 0.87% year-on-year, respectively.
Samsung is the largest foreign investor in Vietnam. About 60% of the tech giant's smartphones are made in the country. The group had invested more than $20 billion as of June 2022, about 28 times higher than its initial commitment.
Samsung Electronics is preparing for the trial production of flip-chip ball grid array in Vietnam, with commercial production slated to begin next July at its factory in Thai Nguyen.
This information was revealed during a meeting on August 5 in Hanoi between Roh Tae-moon, president and head of smartphone business of Samsung Electronics, and Prime Minister Pham Minh Chinh.
Flip-chip BGA is a mid-cost, high-performance, semiconductor packaging solution that utilizes the controlled collapse chip connection technology, also known as flip chip, for its die to substrate interconnection.