Sea change makes 'infinity beach' a tourism hotspot
Sun, September 4, 2022 | 4:32 pm GTM+7
Quang Lang beach in Thai Binh province has emerged a tourism hotspot of late, allowing spectacular photos of the "infinity" landscape formed when the tides recede and the water surface mirrors the sky.
The beach is located right next to the estuary of the Diem Ho River, a small tributary of the Red River, about 130 kilometers from Hanoi and about two kilometers from Thai Binh's Diem Dien town.
On calm days early in the morning, the beach becomes a mirror to infinity when tides recede, creating the "infinity" effect with sea water around ankle level for a long distance.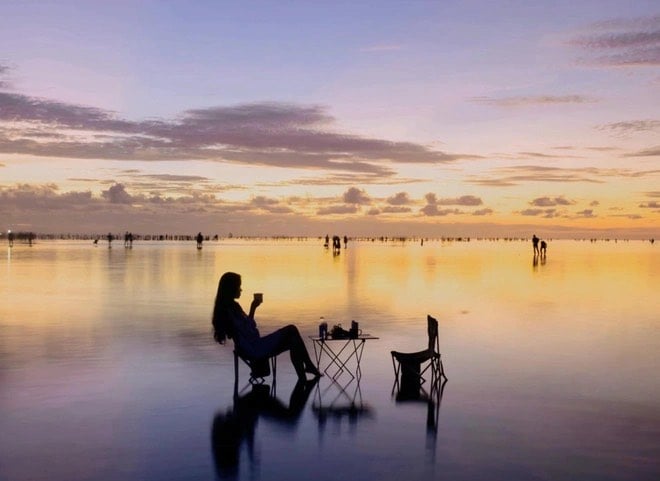 To get to the most beautiful place to see this effect, it takes a walk of about one hour through a protected forest on a slippery, muddy path.
Weather experts say that from September 1 to 6, water levels are high on all mornings, so it is not ideal for visitors who wish to capture the infinity effect. The right time to capture this is from September 7 to 12 and September 23 to 26.
In addition, it is also necessary to monitor the tides and wind, said a travel and photography enthusiast from Hanoi who did not want to be named.
At low tide, when the water is calm and at ankle height, and there is little or no wind, the conditions are ideal for photography because the sea surface looks as though it is coated with a mirror reflecting the sky.
The golden hour to welcome the most beautiful sunrise on the "infinity beach" is 5 a.m. to 5:30 a.m.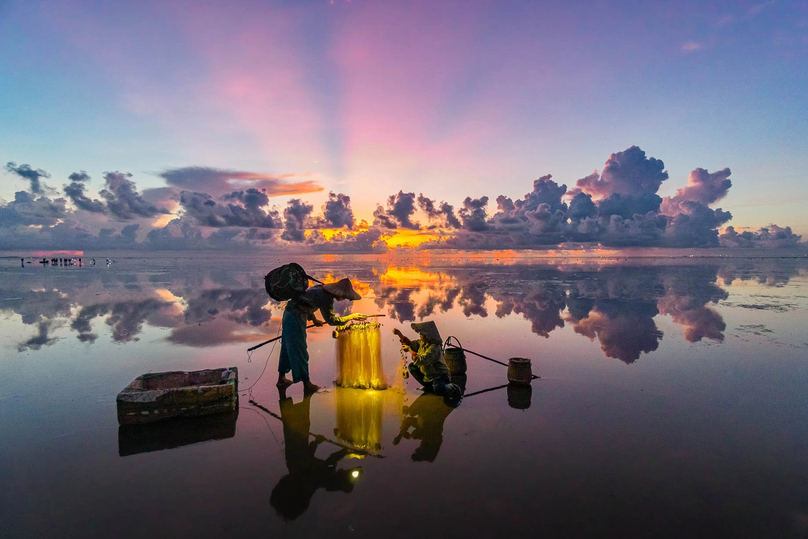 Visitors not only can admire the stunning landscape, but also have close encounters with the idyllic life of local people who have dotted the sea with watchtowers for clams.
Women are present at sea from dawn to catch nail-like snails or small shrimp, or dig for clams.
Along with the beautiful scenery, visitors can enjoy the typical dishes of this region, of which the most prominent is "canh ca", or Thai Binh-style fish noodle soup.