US-based Dwight Schools makes foray into Vietnam
Fri, August 12, 2022 | 4:18 pm GTM+7
The Dwight Schools, a leading global network of International Baccalaureate (IB) world schools, is set to open its Hanoi campus in August next year via a partnership with Vietnamese conglomerate Bitexco.
The duo launched the partnership in Hanoi on Thursday, announcing the establishment of Dwight School Hanoi.
Founded in New York in 1872, Dwight was the first school in the Americas to offer the comprehensive IB continuum curriculum from preschool to grade 12. Meanwhile, the partnership has made education part of Bitexco's ecosystem, which includes real estate, infrastructure development, financial investment, hospitality, renewable energy, oil and gas, telecommunications, and mineral water production.
Dwight School Hanoi, for students in preschool to grade 12, will be situated on a state-of-the-art 35,000-square meter campus in The Manor Central Park, a new residential development in central Hanoi. The Manor Central Park is developed by Ho Chi Minh City-based Bitexco.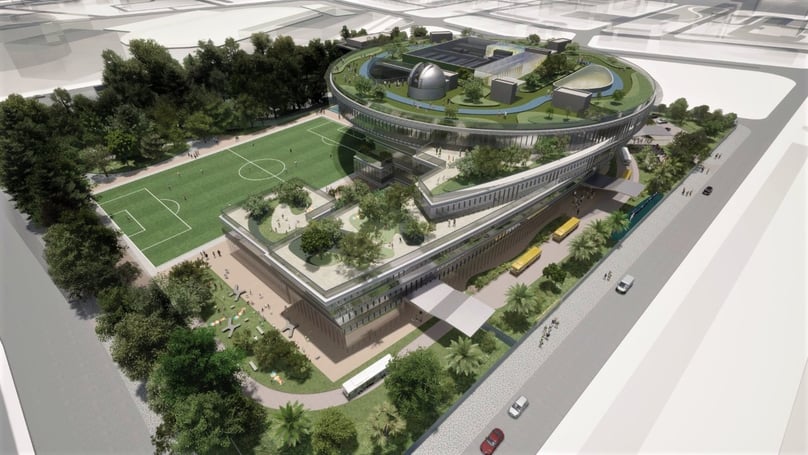 The campus is designed by world-renowned architect Carlos Zapata and encompasses the most advanced campus and classroom technologies to promote inspiration, collaboration, and innovation for both students and faculties.
"Dwight is committed to educating the next generation of global leaders and to forging collaborative relationships with those who want to bring shared value to students through innovative education," said Stephen Spahn, chancellor of The Dwight Schools.
Bitexco Chairman Vu Quang Hoi said: "After searching for several years, I am thrilled to welcome Dwight Schools to our site at The Manor Central Park, where I know they will create a magical school grounded in all the best elements of Vietnamese culture.
"The Dwight Schools, like Bitexco, are family owned, and we share a commitment to community, sustainability, innovation, and a global perspective. Together, we will be making a concrete contribution to the development of Vietnam," he added.
According to Dwight, the Hanoi campus will feature open architecture and stunning facilities, including the Spark of Genius Hall, the Tech and Design Center, spaces for all grades, a black box theater, 800-seat performing arts center, 2,000 square meters of library space, a ceramics studio, a music conservatory and music technology rooms, not to mention all.
The campus is the newest addition to the Dwight family of schools, joining campuses in New York, London, Seoul, Shanghai, Dubai, and Dwight Global Online School.
For Vietnamese students, Dwight School Hanoi will offer Vietnamese language arts as a daily subject to support mother tongue language acquisition, according to Dwight. The Hanoi campus plans to open its lower school (grades 1-5) in August 2023, followed by preschool and grades 6-12 in August 2024.
As a member of The Dwight Schools global network, students in Hanoi will enjoy cross-campus curricula and collaborations with their peers around the world.
In Vietnamese education, American global investment giant KKR in June 2021 invested $100 million in EQuest, a leading educational services provider in Vietnam. The capital is used to support the domestic firm's expansion and advance its mission to provide students in Vietnam with affordable access to world-class education.
Together with the KKR investment, Annabelle Vultee, former China chief operating officer of EF Education First, has joined EQuest's board of directors.