Vietnam consumer trends favor US F&B products: retailer
Tue, September 20, 2022 | 3:46 pm GTM+7
The Vietnamese market of almost 100 million people presents significant potential for U.S. food and beverage exports as customers focus more on safety and quality, a retail executive said Tuesday.
"Vietnamese consumer trends have changed significantly, including purchasing healthier products at reliable supermarkets," said Bruno Jousselin, MM Mega Market Vietnam CEO. He was speaking at the HCMC launch of a two-week promotion of U.S. food and beverages at the Thai supermarket chain across Vietnam.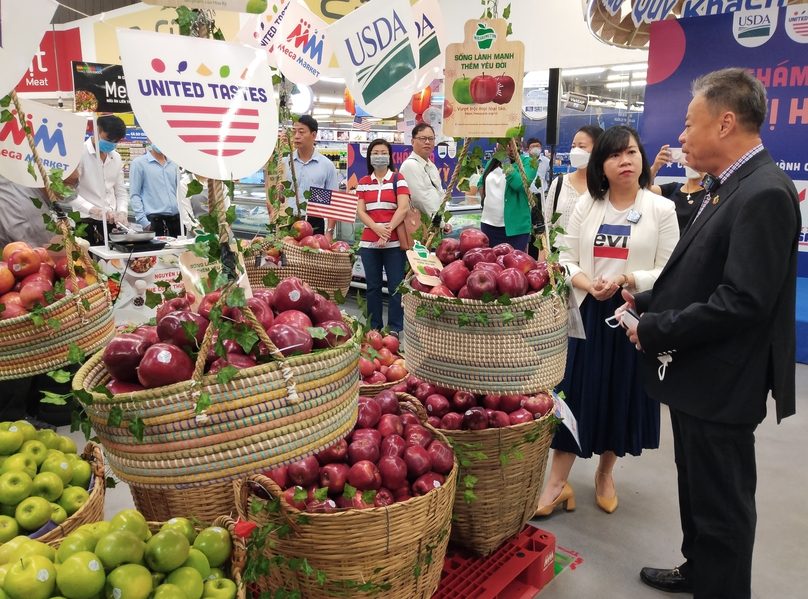 Addressing the event, Benjamin Petlock, senior agricultural attaché at the U.S. Consulate General in HCMC, highlighted the Vietnamese market's significance for American agriculture. "Vietnam is an increasingly important export market for U.S. agricultural products including food and beverages. U.S. exports of consumer-oriented products to Vietnam increased 8% to over $1 billion in 2021, despite all challenges and disruptions due to Covid-19," Petlock said.
The MM CEO noted that the U.S. has been recognized as one of the largest trade and investment partners of Vietnam. In 2021, the two countries' bilateral trade reached $111.56 billion, up 11.3% over 2020. While the U.S remains the largest importer of Vietnamese products, Vietnam was the seventh largest market for U.S. agricultural products, reaching $3.7 billion last year.
The ongoing promotion is supported by eight U.S. Department of Agriculture collaborators: Washington Apple Commission; USA Poultry and Eggs Export Council; U.S. Raisin Administrative Commission; Alaska Seafood Marketing Institute; USA Dry Pea & Lentil Council; U.S. Meat Export Federation; and U.S. Highbush Blueberry Council.
Francis Lee, Vietnam representative of the Washington Apple Commission, told The Investor that the group shipped to Vietnam two million 20-kilogram boxes of apples in 2020, but the amount dropped to about 1.4 million boxes in 2021 due to the pandemic. He said this year shipment is expected to increase to 1.5 million boxes.
During the ongoing promotion, a kilo of Washington apple is priced at VND79,000 ($3.34), discounted from the normal price of VND99,000 ($4.18).
More than 140 food and beverage products including vegetables, fruit, beef, chicken, seafood, canned food, sauces, wine, and non-alcoholic drinks from a wide range of well-known U.S. brands have joined the promotion, which also features food samples and cooking demonstrations conducted by MM chefs.
MM merchandise director John Lee told The Investor: "The mutual cooperation between MM and the U.S. Department of Agriculture collaborators will be further facilitated via stronger synergies in the future. Our ultimate goal is to become the number one wholesale food retailer in Vietnam and Indochina."
TCC Holding, part of Thailand-headquartered TCC Group which is controlled by Thai beer tycoon Charoen Sirivadhanabhakdi, acquired German retailer Metro's Vietnam unit in 2015 for 655 million euros ($704 million), and renamed it MM Mega Market in early 2017. Built on the German wholesale corporation's Vietnam footprint, MM continues to maintain its top position for professional customers and households.