VinFast to deliver EVs in US, Canada, Europe this December
Sat, September 10, 2022 | 12:42 pm GTM+7
VinFast is set to make its first global delivery in December as it plans to ship about 5,000 EVs to the U.S., Canada, and Europe this November, the Vietnamese electric vehicle startup said Saturday.
VinFast, the car unit of Vietnam's largest private conglomerate Vingroup, announced the timeline while delivering its first batch of 100 VF 8 electric SUVs to Vietnamese customers Saturday at its factory in the northern port city of Hai Phong.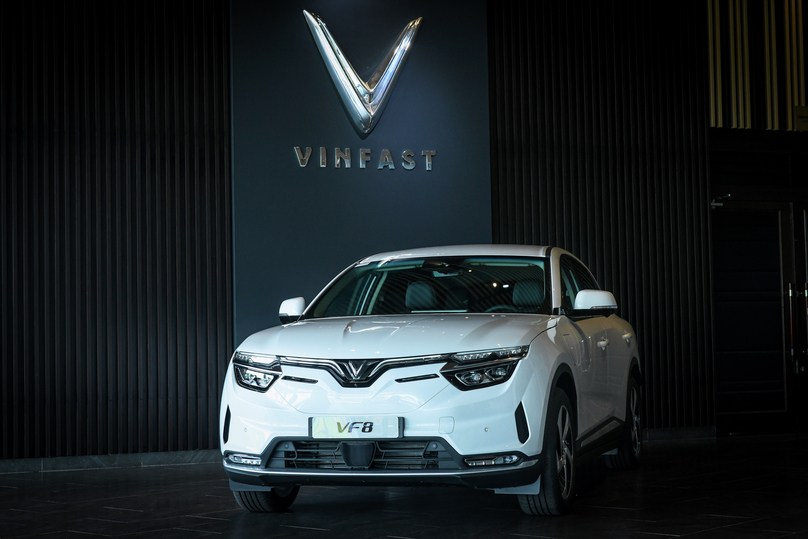 "Today's event marks a turning point for Vietnam's auto industry. At this historic moment, we are extremely happy to deliver the first batch of VF 8 all-electric vehicles to our pioneering customers in Vietnam. And very soon, the enthusiasm will be realized by more than 65,000 pioneering customers worldwide," Le Thi Thu Thuy, vice chairwoman of Vingroup and Global CEO of VinFast, said at the event.
Prices for the 5-seat SUV begin at $57,000 for those that include a battery and from $42,200 for those with a monthly battery subscription, VinFast said on its website.
The mid-size car has two versions - Eco and Plus. The first is equipped with a 260 kW-maximum-power electric motor reaching a maximum torque of 500Nm that sustains a range of 260 miles after each full charge. The Plus version has a 300 kW-maximum-power electric motor with a maximum torque of 620Nm and a range of 248 miles per each full charge.
In mid July, VinFast ceased taking new orders for fossil-fuel vehicles and sait it would start going fully electric from September, earlier than scheduled. The decision makes VinFast one of the pioneers in the world in abandoning the internal combustion engine and lead the global EV trend.
The Vietnamese carmaker said on July 15 that it has secured a $1.2 billion incentive package from the State of North Carolina for its EV and battery manufacturing project in the U.S. The facility will be developed at the Triangle Innovation Point in Chatham County with a first phase investment of about $2 billion.
It is envisaged that the VinFast complex will reach the capacity of 150,000 vehicles per year, creating an ecosystem of suppliers and thousands of jobs. It plans to start production in 2024.