Work starts on factory cluster in Quang Ninh
Fri, September 2, 2022 | 7:00 am GTM+7
Quang Ninh began construction Thursday of a 101-hectare compound of industrial plants in the northern province's Nha Mac Lagoon area in Quang Yen town.
At the ground-breaking ceremony, provincial officials handed out two investment certificates to two projects in the cluster - the Quang Yen Electronics Factory, with a total capital of VND1,467 billion ($62.5 million); and a VND1,248 billion ($53.2 million) plant of Quang Yen Manufacturing Industry Co., Ltd. to produce spare parts for agricultural machinery.
The Quang Yen Electronics Co., Ltd. immediately began work on the 33-hectare plant that will produce Bluetooth headsets, and mobile phone speakers. The provincial company expects the facility to go online in the third quarter of 2023.
Work also began on the 28-hectare second project, which plans to begin operations in March 2024.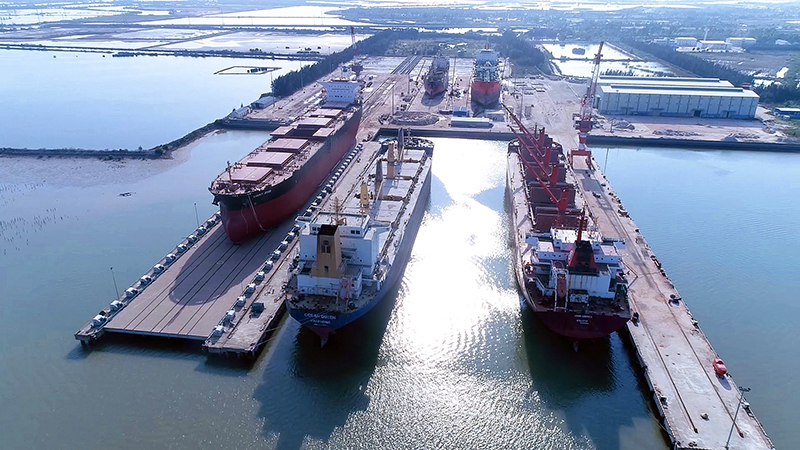 The Quang Yen Coastal Economic Zone was set up in 2020 under a prime ministerial decision, and the new cluster of factories is the first manufacturing site being built in the zone, said Quang Ninh Vice Chairman Bui Van Khang.
The cluster is a development by a consortium comprising Saigontel and Saigon-Hai Phong Industrial Park JSC, a subsidiary of major industrial property developer Kinh Bac Corp.
Nguyen Bich Ngoc, Deputy Minister of Planning and Investment, said construction of the cluster will help Quang Ninh attract more manufacturing projects.
Also on Thursday, Van Don-Mong Cai Expressway in the province opened to traffic after more than two years of construction.
Quang Ninh, along the Vietnam-China border and part of the Hanoi-Hai Phong-Quang Ninh development triangle, is emerging as a new production base in northern Vietnam, according to real estate services firm CBRE.
The triangle offers full transport links - by road, air, and sea. Besides linking Hanoi and Hai Phong, Quang Ninh offers a convenient connection to southern China.