Animal husbandry draws big investments in Vietnam
Mon, September 19, 2022 | 4:09 pm GTM+7
Both domestic and foreign investors are heating up the race in animal husbandry in Vietnam, where the industry offers numerous expansion opportunities.
"It's a lucrative sector for both foreign and domestic investors," said Tong Xuan Chinh, deputy chief of the Ministry of Agriculture and Rural Development's department of livestock production.
"Animal husbandry now accounts for nearly 6% of Vietnam's annual GDP. With a national population of nearly 100 million, the development potential in the industry is very large," he added.
More than 170 enterprises from 21 countries and territories, including Vietnam, have registered join Vietnam's Premier International Feed, Livestock & Meat Industry Show (VietStock) Expo & Forum on October 12-14 in Ho Chi Minh City, which shows surging corporate interest in the field, according to Chinh.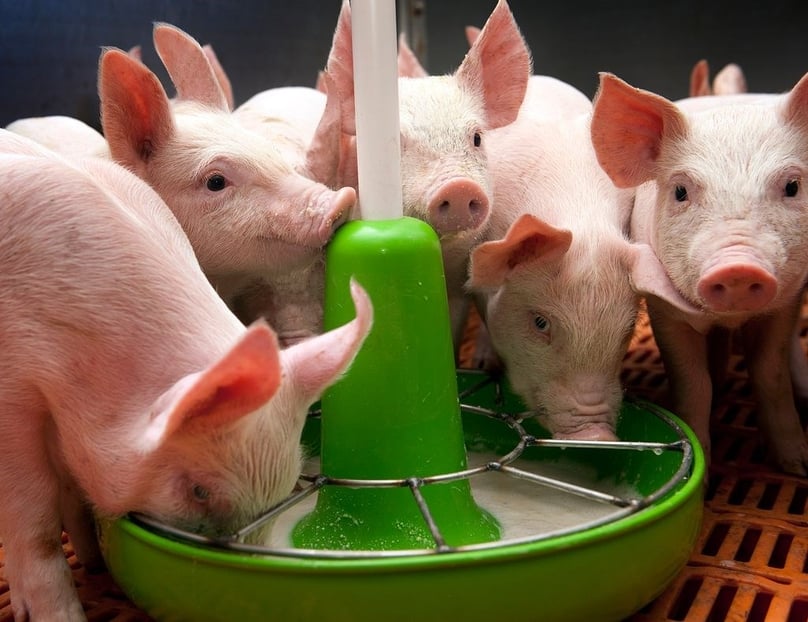 Vietnam is now home to 81 foreign-invested projects in the husbandry industry with a total capital of $2.2 billion, Foreign Investment Agency data shows.
Major foreign and Vietnamese players in the sector include De Heus from the Netherlands; American giants Archer Daniels Midland, better known as AD, and Cargill; Thailand's CP Group; and domestic names like Masan, Vinamilk, and TH Group.
De Heus is investing around $600-700 million in Vietnam's animal protein supply chain, starting in November 2021 when Masan announced the Dutch company was acquiring its feed business to further expand in Vietnam and supply feed and pigs to the Vietnamese conglomerate.
Johan van den Ban, CEO of De Heus Vietnam and Cambodia commented on the investment: "This transaction will accelerate the implementation of our commitment to bring the animal protein value chain in Vietnam to a higher level in terms of food safety, productivity, and sustainability."
The transaction allowed De Heus to obtain control of 100% of the feed business of Masan MeatLife Corporation, comprised of 100% of Anco and 75.2% of Proconco. The feed business covers 13 animal feed mills and one premix plant, with a total combined production capacity of nearly four million tons. Via the deal, De Heus and Masan launched their multiple strategic agreements for the supply of feed and pigs by the Dutch side to Masan.
Earlier this month, the World Bank's investment arm IFC said it had pumped $52 million into Hanoi-headquartered Australia-invested Mavin Group to support the corporation in expanding sustainable pig farming.
IFC said Mavin was considered Vietnam's largest producer of veterinary products with 400 distributors nationwide. The corporation has four business units - pork production, meat processing, feed mill operation and veterinary health products manufacturing - located across the country.
IFC is also mulling over a $39 million investment in HCMC-headquartered BaF to support the Vietnamese pork producer and feed mill operator in growing its genetic breeding stock and breeding farms.
The IFC proposal is for a VND600 billion ($25.85 million) convertible bond issuance and a VND300 billion senior bond, which has a higher priority. For the first type, the BaF board of directors approved in mid-August and plans to make this issuance happen this month or later this year.
Also this August, Thaiholdings JSC, a Hanoi-headquartered Vietnamese multi-sector investment company, said it has invested VND600 billion ($25.57 million) in two pig farms in the central province of Thanh Hoa.
Vietnamese companies taking the lead in animal husbandry and meat processing are purchasing large-scale production facilities, according to Chinh.
He said such large-scale businesses are a clear global trend, which makes use of economies of scale. Therefore, smallholder farmers have been influenced, and a solution for them is to cooperate with these large-size businesses, which would make the companies even bigger.
Surging material import
According to the department of livestock production, Vietnam's import of corn and soybeans has been very high over the years since the domestic production of both materials only meets 37% of animal feed demand.
The first seven months of 2022 saw corn and soybean imports cost almost $2.7 billion, while another $400 million was spent on other materials like 2.2 million tons of oilseeds, 0.73 million tons of wheat; and fish meal, bone meal, animal protein, as well as a mixture of trace elements. As a result, the import of input materials for livestock and poultry feed production reached $3.1 billion in the period.
According to the Vietnam Poultry Breeders' Association, the country's demand for animal feed ingredients is forecast to hit 28-30 million tons a year over the next few years, worth $12-13 billion with annual growth of 11-12%. Of this, half would be for poultry feed.
Feed production has been expanding 13-15% annually, while Vietnam has become the 10th largest producer in the world and Southeast Asia's largest.
"ABCD" quartet presence
Vietnam's livestock sector has already entered the world map. De Heus' subsidiary De Heus Vietnam is named among the major players in the compound feed market worldwide as the Compound Feed Global Market Report 2022 shows. Global market watch firm Report Linker publicized the report from New York on September 7.
Other big names in the report include Cargill, ADM, New Hope Group, Charoen Pokphand Food, Land O'Lakes Inc, and Nutreco N.V, to name a few.
The global compound feed market is expected to grow from $422.05 billion in 2021 to $444.48 billion in 2022 at a compound annual growth rate (CAGR) of 5.3%. The compound feed market is expected to grow to $549.54 billion in 2026 at a CAGR of 5.4%, the report said. Asia-Pacific was the largest region in the compound feed market in 2021, it added.
American agri-business group ADM, which also focuses on animal nutrition like De Heus, acquired Vietnamese company Golden Farm Production & Commerce in April last year, with the deal value unrevealed, to fuel its international brand Wisium's business expansions in the Vietnamese market.
The transaction turned Golden Farm's premix facility in Long Khanh Industrial Park into ADM property. The IP is in Dong Nai province bordering HCMC, Vietnam's southern economic hub.
To date, American major Cargill has invested more than $160 million in Vietnam, operating 12 feed mills across the country, according to company data. Located in the southern industrial province of Binh Duong, the 12th facility, the newest, is also Cargill Vietnam's largest and most technologically advanced.
Opened in 2018, the $28 million, 48,000-square-meter feed mill produces a wide portfolio of poultry and swine feed, with an annual capacity of 240,000 tons.
ADM, Bunge, Cargill, and Louis Dreyfus are called the "ABCD" quartet of companies in agri-business worldwide. Only Bunge has yet to enter the Vietnamese market.
This April, the Asian Development Bank (ADB) signed an agreement to provide France-based Louis Dreyfus with a $100 million loan to help smallholder farmers in five countries, including Vietnam, recover from pandemic-induced economic challenges.