IFC invests $52 mln in agri-producer Mavin
Sun, September 4, 2022 | 5:03 pm GTM+7
The World Bank's investment arm IFC has pumped $52 million into Mavin Group in Vietnam to support the corporation in expanding sustainable pig farming.
The investment is part of its African Swine Fever (ASF) Regional Recovery Program, IFC said in a release Sunday, noting that Mavin was considered Vietnam's largest producer of veterinary products with 400 distributors nationwide.
Mavin has four business units - pork production, meat processing, feed mill operation and veterinary health products manufacturing - located across the country.
The three pig breeding farms of Mavin supported by the IFC investment are a 62-hectare farm in K'Bang district, Gia Lai province; a 100-hectare farm in Anh Son district, Nghe An province; and a farm of 45 hectares in Dong Thap province's Cao Lanh district.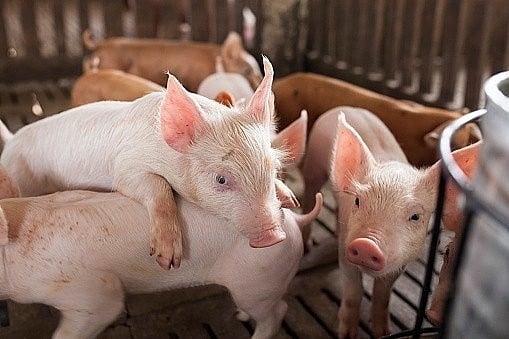 IFC said the farm expansions are projected to increase Mavin's breeding herd by 7,500 head (to a cumulative breeding stock of around 15,600) and gilt raising capacity by 72,000 head (to a total of about 87,400 head). The increase in breeding stock is expected to result in a threefold increase in Mavin's contracted porker farms to 150 operating units by 2025, or around 900,000 head.
For these contracted pig farms, two models apply, according to the IFC. The first approach is for already constructed facilities, and Mavin engages directly with the operators and will sign contracts with the businesses for a period of three to five years.
In the second approach, which is for new constructions, Mavin will identify a suitable location and require the landowner to build a facility to the company's technical specifications with an agreement to engage in contracted farming once the site is constructed.
The Hanoi-based Mavin Group had announced this IFC investment in May. "IFC's support in financing and their knowledge and expertise can help us become the leader in safe food production under the "From Farm to Table" supply chain in Vietnam and assist Mavin meet international best practices in pig farming," group chairman David John Whitehead had said then.
The group, established in 2004, has four subsidiaries: Mavin Farm, Mavin Feed, Mavin Food and Mavin Vet. The first is one of Vietnam's main pork producers, while Mavin Feed operates five mills across Vietnam with an annual production capacity of 1.24 million tons of animal feed.
Mavin Food operates one meat processing factory in northern Vietnam's Ha Nam province with a production capacity of 10,000 tons per annum. The last unit runs the Cai Lay Veterinary Pharmaceutical JSC in the Mekong delta province of Tien Giang, producing antibiotic and nutrient treatment products for livestock.
In another news, the Asian Development Bank (ADB) said it has approved a $20-millon loan to support Vietnamese carmaker VinFast's operation and expansion in the country.
ADB said the loan will be used for the production of electric vehicles, scooters, buses, electric vehicle charging stations, battery manufacturing facilities and other electric vehicle-related activities.
The ADB also disclosed Thursday that it has proposed to extend a loan of about $91.4 million to renewable energy developer AC Energy's wind power developments in Vietnam. The proposal consists of $35 million in ordinary capital sources and a B loan of $56.4 million. AC Energy is the electricity platform of the Ayala Group, one of the Philippines' largest conglomerates.
B loans, also called term loans, are ones made by institutional investors whose primary goal is to maximize the long-term total returns on their investments. B loans typically mature within six to seven years. Interest rate margins on them are higher than the interest rate margin on A loans and any revolving credit loan under the same loan agreement.