Decade-long suspended projects cause HCMC headache
Tue, September 13, 2022 | 9:52 am GTM+7
Ho Chi Minh City, the southern metropolis of Vietnam, has seen a series of projects delayed for decades, affecting the lives of residents waiting to be relocated.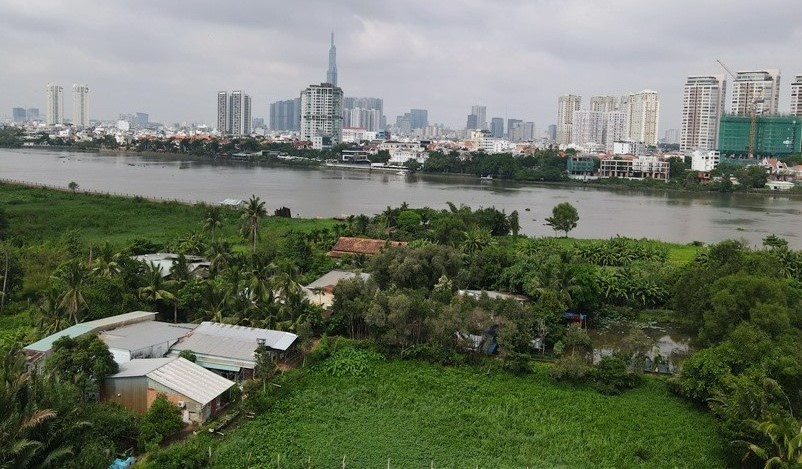 Among those is the Binh Quoi-Thanh Da Urban Area project in Binh Thanh district, approved in 1992 on an area of 426 hectares and with a population of 45,000.
Twelve years later, the project was transferred to Saigon Construction Corporation for implementation. In June 2005, the municipal Department of Planning and Architecture submitted to the city People's Committee a report on detailed planning for Binh Quoi- Thanh Da peninsula. In early 2006, HCMC determined that the urban area would house about 80,000 people.
In 2010, the people's committee revoked the investment license as Saigon Construction Corporation was incapable of carrying out the project. Later, many investors expressed their desire to implement this project, but then gave up due to problems regarding compensation for site clearance.
The Binh Quoi-Thanh Da Urban Area was initially expected to be a modern ecological locality, but after three decades, remains on paper. People can only "shake their heads" to show their disappointment, saying that most likely, they would not see any changes here for the rest of their lives.
A project on the urban embellishment of the Ma Lang area (Nguyen Cu Trinh quadrangle) in the center of District 1 also fell into a deadlock due to site clearance difficulties over the past 20 years.
In 2000, Saigon Real Estate Corporation was assigned as investor, but was unable to implement the project. In 2007, HCMC planned to assign another firm to invest in it. However, so far, no plans have been realised.
The Ma Lang area includes three residential sites in Nguyen Cu Trinh ward, with 1,424 households. Under the planning, the area to be recovered is 68,500 square meters, with VND5 trillion ($212.5 million) for site clearance compensation estimated in 2009. However, compensation costs have been soaring due to skyrocketing house and land prices in HCMC in recent years.
Considered one of the breakthrough strategies of HCMC's urban renovation and embellishment, with the goal of building a complex featuring many works with different functions, expectations for the Ma Lang area have been high. However, the plan remains unfeasible, with locals living in misery.
Another project also famous for its long-term suspension is the Tay Bac (Northwest) Urban Area in Hoc Mon and Cu Chi districts, approved by the Prime Minister in 1998.
It was oriented to become one of the satellite urban areas located in the northwest of the city as well as a scientific, financial, services and commercial hub of the southern metropolis. The suspended planning has affected 60,000 people over an extended period.
About 20 years ago, the project to build a 6,000-hectare urban area painted a bright prospect for local people. However, it remains on paper despite efforts to call for investment. Locals cannot repair, sell or transfer their houses even though their needs are urgent.
There are many other projects in the same situation including Binh Trieu Station in Thu Duc city, Saigon Safari, Hung Long University Village, and Xuyen Tam Canal Upgrading.
At the sixth meeting of the municipal People's Council in early July, local voters proposed the authorities resolutely revoke and cross out "suspended" projects and planning schemes to safeguard the interest of residents.
At a press conference on the city's socio-economic performance in the first five months this year, Vo Cong Luc, an official from the municipal Department of Natural Resources and Environment, said HCMC had dealt with 169 out of 616 delayed projects. Of this, 108 had their land use plans cancelled.
He added that in the coming time, the department would review projects that have registered for land use for three years but are yet to be implemented on schedule to report to the municipal People's Committee.
As the largest city in the country, HCMC is set to become a smart urban area and modern industrial and service hub that acts as a driving force for the southern key economic region by 2025. The city's average annual gross regional domestic product (GRDP) per capita is estimated at $8,500 then.