Fire breaks out at Thai-invested Long Son petrochemical complex
Sat, September 10, 2022 | 9:45 pm GTM+7
A fire broke out Saturday afternoon at the Long Son Petrochemicals Complex in Vung Tau town, southern Vietnam, during a test run.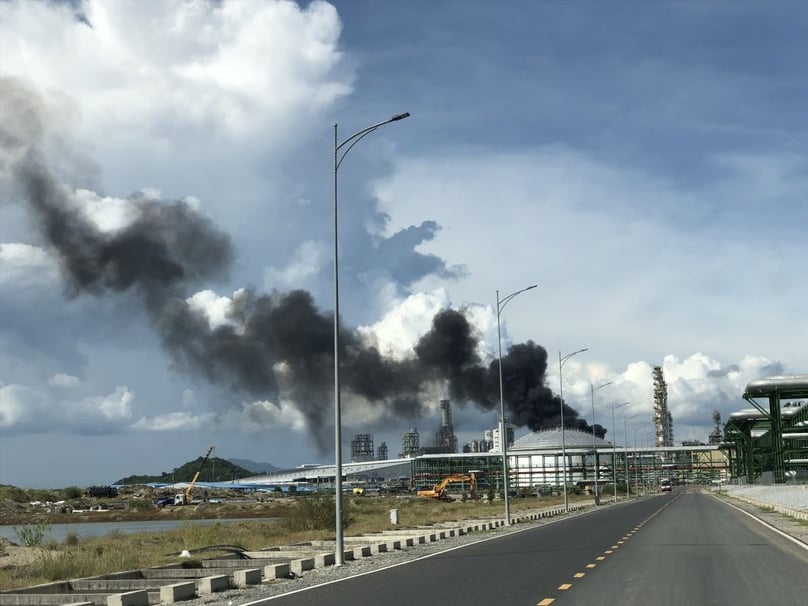 At around 2:30 p.m., the fire created a column of black smoke rising several dozen meters from the project site in Long Son commune.
Fire trucks and dozens of on-site fire fighting staff were deployed, and the blaze was extinguished after more than 40 minutes.
Colonel Bui Van Thao, chief of police in Ba Ria-Vung Tau, told local press that the fire happened when the contractor was carrying out a test run. There were no casualties and the cause was being investigated, he added.
Thailand's Siam Cement Group (SCG) is the main investor in the Long Son Petrochemicals Complex. The project was 96.2% complete as of July, according to a source with knowledge of the matter.
The Thai conglomerate started construction of the $5.4 billion complex in the fourth quarter of 2018. It expects a partial start to operations this year, three years behind the original plan, and a complete start in the first half of 2023.
In August 2018, SCG signed loan agreements worth more than $3.2 billion with six leading financial institutions to implement the project, namely Sumitomo Mitsui Banking Corporation, Mizuho Bank, Bangkok Bank, Krungthai Bank, Siam Commercial Bank and Export-Import Bank of Thailand.
In a meeting with Vietnamese Prime Minister Pham Minh Chinh this February, SCG president and CEO Roongrote Rangsiyopash had said the group was eyeing two projects - upgrading production capacities in the complex and developing the second phase.
He said phase two would employ environment-friendly, advanced technology, and concentrate on the production of high-value added products such as SCG green polymer, an innovative eco-friendly polymer, to promote sustainable development.
Vietnam now has two operational oil refineries - Nghi Son Refinery and Petrochemical complex in Thanh Hoa province, and the Binh Son Refining and Petrochemical in Quang Ngai province, both in the central region.
Nghi Son is a $9 billion refinery co-owned by state-run Petrovietnam, Kuwait Petroleum Europe B.V. (KPE) and Japan's Mitsui Chemical and Idemitsu Kosan Co. The other complex, better known as Dung Quat Refinery, is a Petrovietnam subsidiary and has received more than $3 billion in investments.
State-run Petrovietnam last month proposed the government consider investment for a $19 billion oil refinery and national crude oil, petroleum reserve in the Long Son Petroleum Industrial Park of Ba Ria-Vung Tau.