Saigon Port JSC reports 16% decline in Q2 profit
Sat, August 6, 2022 | 8:47 pm GTM+7
Saigon Port JSC, a major port operator in Vietnam, reported an after-tax profit of VND116.8 billion ($5 million) in the second quarter of 2022, down 16% year-on-year.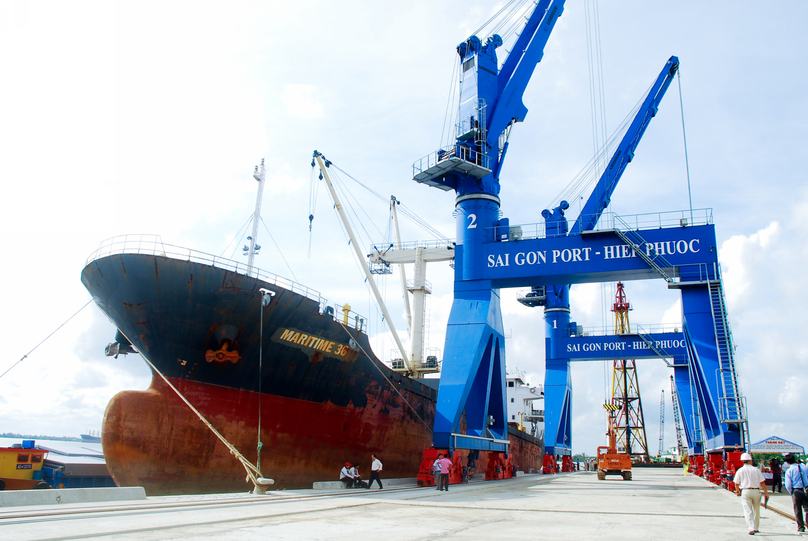 Revenues from port operations dropped by $2.21 million, while the cost of goods sold decreased by only $538,000 compared to Q2/2021, the firm's consolidated financial statement explained why the profit declined.
Moreover, profits from joint ventures and associates in Q2 were down by $244,000 compared to the same period last year.
Specifically, profits from Thi Vai Genaral Port JSC, Korea Express Saigon Port and SP-SSA International Terminal (SSIT) dropped by $65,400, $8,200 and $345,000 year-on-year, respectively. Profit from SP-SPA International Port grew $174,400.
The company's consolidated net revenue reached $13.89 million in the period, down 13.7% year-on-year.
In the first half, the company's consolidated net revenue and after-tax profit reached $26.28 million and $7.12 million, down 11.3% and 29.7%, respectively.
After six months, Saigon Port had fullfilled 47.6% of the year's revenue plan and 43.6% of the year's profit target.
By June 30, 2022, total assets reached $231 million, almost flat against the beginning of the year. Short-term financial investment hit $39.82 million, fixed assets $70.88 million, and long-term financial investment $44.16 million.
In terms of capital structure, at the end of Q2, liabilities reached VND2,848 billion ($122.8 million), of which long-term liabilities hit VND1,780 billion, including debt to the Ministry of Finance for a capital advance toward Saigon Hiep Phuoc Port of VND599 billion, debt with guarantee to SP-PSA International Port at VND249.9 billion and VND850 billion to Vien Dong Pearl Urban Development Investment Company Limited.
The company currently holds a 5.56% stake in Vien Dong Pearl Urban. The other shareholders are Vingroup (9.62%) and Ben Nghe Infrastructure Development Company Limited (84.82%).
Vien Dong Pearl Urban is the investor of a 31.5-hectare real estate project at the Nha Rong-Khanh Hoi port complex in wards 12, 13 and 18, District 4, Ho Chi Minh City.
Saigon Port JSC is listed on the unlisted public company market UPCoM as SPG. At the closing session on August 5, SPG shares were priced at VND21,100 ($0.9) per unit.