Vietnamese man 'beaten to death' outside Cambodia casino
Sat, August 27, 2022 | 4:06 pm GTM+7
A 34-year-old Vietnamese man was beaten to death by a sticks-wielding mob outside a casino in Cambodia's Bavet city along the Cambodia-Vietnam border, according to Cambodian police.
The incident happened at 3:15 a.m. Friday in front of Casino 67 in Bavet Kandal village, Bavet. According to Cambodian police, the victim, Duong, worked as a chef. The murderers, identified as Vietnamese, fled the scene after the incident.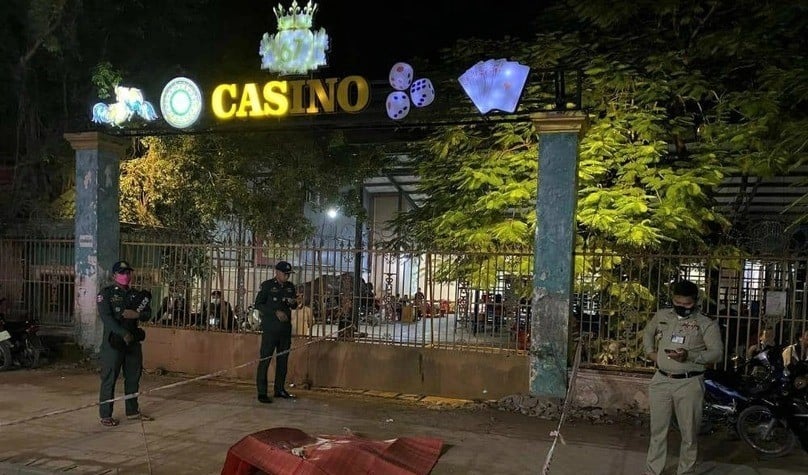 According to witnesses, before the incident, the Vietnamese man had gone to a pawn shop to get money to gamble in the casino, Khmer Times reported. Later, a group of about four to five men walked in to talk to him, then suddenly attacked him. After beating him to death, they left, the newspaper quoted unidentified sources as saying.
Police were studying security cameras to identify the perpetrators, Khmer Times said.
Cambodia has rescued 865 foreigners from human trafficking in 87 cases from January 1 to August 20, the country's Interior Minister Sar Kheng said Friday. Sixty human trafficking suspects in 17 cases have been prosecuted.
Investigations show that many foreigners are deceived via social media to enter Cambodia illegally, with the promise of high-paying jobs, Khmer Times quoted the minister as saying.
"But they are compelled to work at illegal online gambling companies and had become victims of human trafficking.
"Criminals traffick and transfer them from one company to another, or from one group to another, without their consent, and in some cases, they suffer violence and intimidation if they disobey the criminals' orders," he said.
On August 18, 42 Vietnamese people tried to escape from a casino in Kandal province bordering Vietnam by swimming across the Binh Di River to return to Vietnam in the Mekong Delta province of An Giang. Forty made it, a 16-year-old boy drowned and one was captured by casino staff.
Foreign Ministry spokeswoman Le Thi Thu Hang said last week that Vietnam had asked Cambodia to help investigate the case. The Chinese manager of that casino was later arrested by Cambodian authorities.