HCMC needs infrastructure development breakthroughs: Party leader
Fri, September 23, 2022 | 3:40 pm GTM+7
Party chief Nguyen Phu Trong on Friday asked Ho Chi Minh City to prioritize construction and create stronger advances in growing the southern economic hub's infrastructure system.
It was one of the requests made by the top leader during his meeting with HCMC authorities.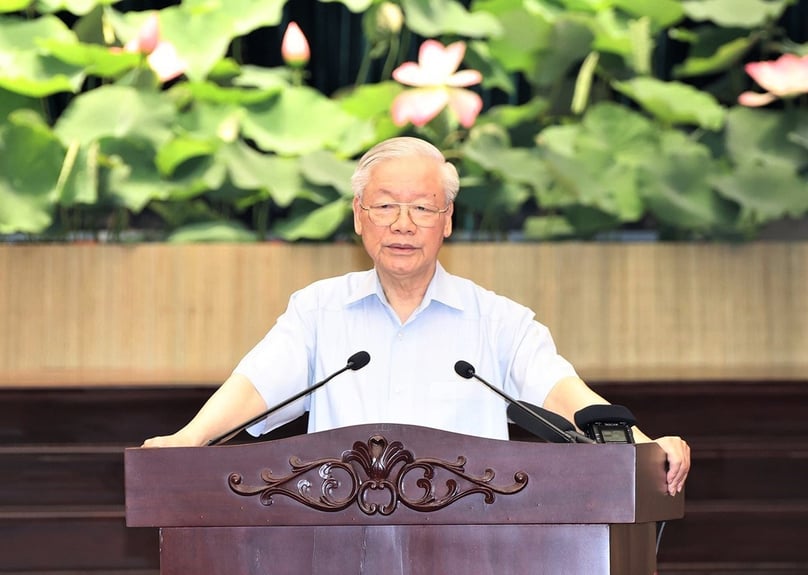 He said HCMC also needed to improve the efficiency of urban planning and design; proactively coordinate with ministries, state agencies and other southern localities to focus on building a high-capacity public transport system; develop ring roads, elevated roads, expressways, marine passages, and waterways to create smooth inter-regional connections.
"The city needs to soon reduce its transport infrastructure weaknesses, work out more radical solutions to environmental problems, climate change, sea level rises, water supply and drainage issues, as well as problems in anti-flooding programs and waste treatment," he noted.
To remove current bottlenecks in terms of institution, infrastructure and human resources, the Party general secretary asked city officials to accelerate economic restructuring based on a strong growth model, and improve leadership capacity.
Trong also praised HCMC's economic expansion of 3.82% in the first six months of the year, compared to a shrinkage last year. Its economic growth was minus 6.78% in 2021 due to the pandemic.
However, the Party leader reminded HCMC that its growth has not matched its potential and position as the driving development force for the south and the entire country, with signs of decline in recent years.
He asked city officials to identify the reasons and work out measures to overcome them. Problems beyond HCMC's authority must be reported to the central-level leadership, Trong said.
The National Assembly, the Government, ministries and state agencies were required to support HCMC in solving its problems and issues in the spirit of "HCMC for the whole country and the whole country for HCMC," he added.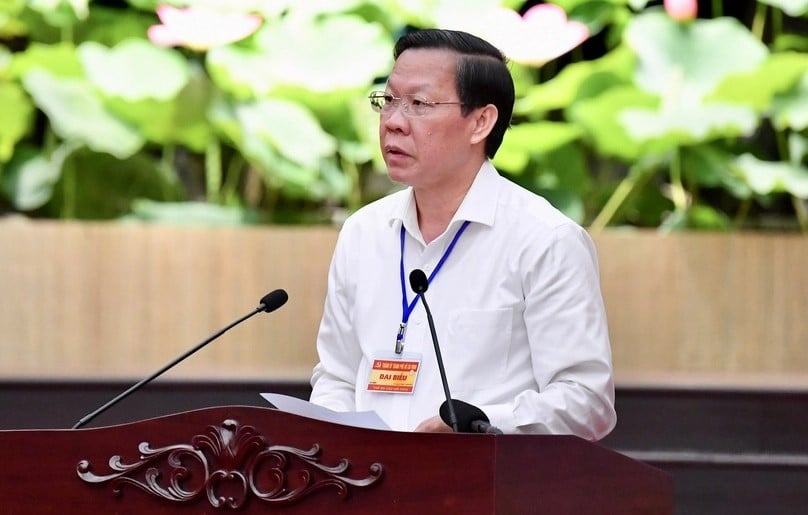 Prior to the Party leader's requests, HCMC Chairman Phan Van Mai, in a report to him, proposed the national leadership continue to choose HCMC as a place to pilot new development issues, on which regulations are already out of date or there is an absence of regulations.
Mai said HCMC also wanted more decentralization, especially in completing the institution for Thu Duc city on its outskirts.
The chairman proposed the central government prioritize financial resources for HCMC to implement transport infrastructure projects subject to national planning, and continue to issue pilot mechanisms and policies to create breakthroughs.
The economic hub estimates its January-September growth at 9.71% year-on-year, and its total estimated budget revenue of VND350 trillion ($14.76 billion), over 90% of the full-year target.