Viettel leads pack as top 3 Vietnam brands valued at $14.5 bln
Wed, September 21, 2022 | 7:01 pm GTM+7
Telecom giant Viettel is Vietnam's most valuable brand at $8.8 billion, followed by VNPT ($2.9 billion) and dairy firm Vinamilk ($2.8 billion), according to brand valuation consultants Brand Finance.
With its brand value up 44% over last year, military-run Viettel has retained its crown as the most valuable Vietnamese brand for the fourth consecutive year, the global firm said Wednesday.
The brand value of second-ranked VNPT, another telecom major, increased by 4%, while that of Vinamilk went up 18% over the previous year.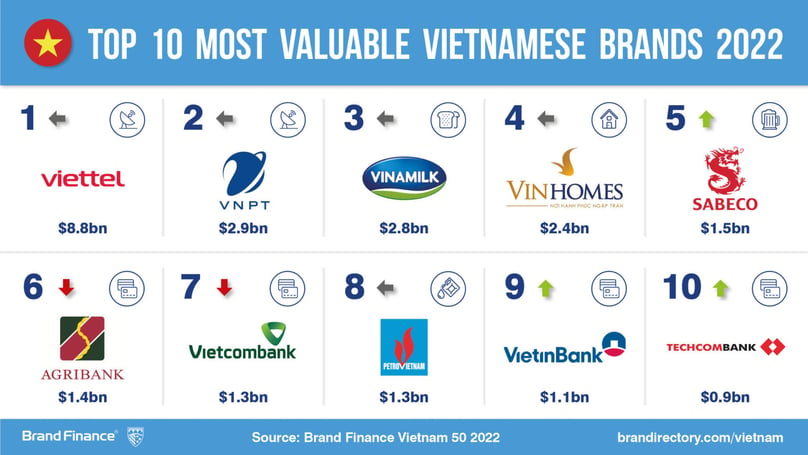 Every year, Brand Finance puts thousands of the world's top brands to the test, evaluating which are the most valuable and strongest.
Viettel projects a strong corporate emphasis on environmental sustainability and urban biodiversity as is evident throughout its corporate headquarters, the 2022 Brand Finance Vietnam 50 notes.
Viettel Global, a subsidiary of Viettel and one of Vietnam's biggest overseas investors, reported a record-high quarterly revenue of $237 million in Q1 of this year, up 17% year-on-year. The African region, Southeast Asia and Latin America all remain a significant driver of Viettel's global growth.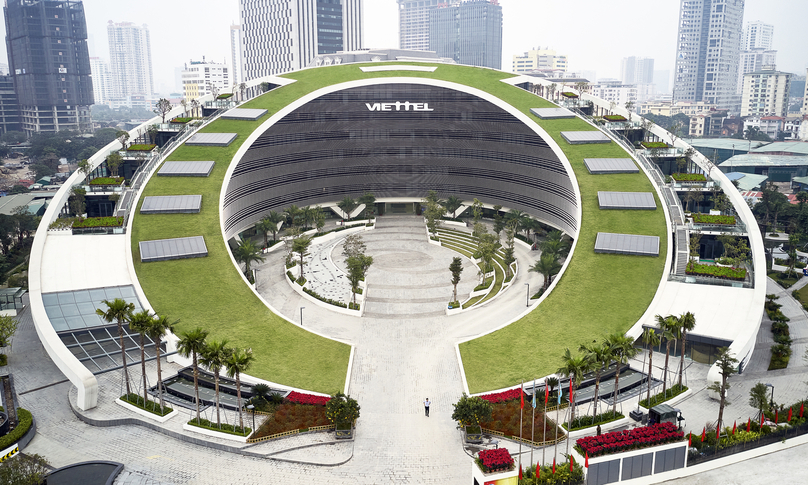 Lai Tien Manh, country representative, Brand Finance Vietnam, said: "The pandemic brought many challenges to Vietnamese brands but at the same time it also bought with it opportunities and a renewed sense of brand purpose. We observed the actions of many local Vietnamese brands as they stepped up to support the government during this time of crisis."
On VNPT, the report says the state-run corporation has over the last five years increased both brand value and brand strength. VNPT has ranked second in the national ranking for four consecutive years and has been in the top three since 2017.
In recent years, the brand has signed agreements with the Vietnamese government and other partners to improve connectivity and provide 5G service in Vietnam.
Meanwhile, Vinamilk has also ranked third for four consecutive years. It is the most valuable food brand in Vietnam, the Brand Finance report says.
The Ho Chi Minh City-based dairy giant continues to make constant efforts to conquer international markets, nearing its goal to become one of 50 biggest dairy brands worldwide.
According to the consultancy's report, Vietnam's top 50 brands in 2022 achieved an aggregate increase in brand value of 36% year-on-year. Despite the negative consequences of the Covid-19 pandemic, the nation's biggest brands were able to deliver commendable results and brand value growth.
Since the Vietnamese economy is dependent on exports to nations like the U.S., China and Japan, supply chain issues continue to affect the growth of Vietnamese brands.
The top ten Vietnamese brands are worth $24.4 billion this year, accounting for 67% of the $36.4 billion of the top 50 Vietnamese brands.
There are four new entrants in the ranking that reflect stronger brand values across the ranking. The four newcomers are Nam Long (brand value $164 million), Vinacomin (brand value up 97% on last year to $83 million), Chin-Su (up 97% to $68 million), and Masan Consumer (up 84% to $66 million).
Alex Haigh, managing director, Brand Finance Asia Pacific, commented: "Despite the pandemic, Vietnam has maintained its economic stability and is rapidly developing with the help of technology.
"However, to continue to grow in brand value and help the country move from being product-oriented to marketing and brand-oriented, Vietnamese brands need to be open to change, react quickly, diversify and become more visible. In this way, they would be better positioned to all stakeholders."
Telecoms, banking, food sectors record highest value
The four telecoms brands - Viettel, VNPT, Vinaphone (brand value up 11% to $859 million) and Mobifone (down 21% to $661 million) have a total brand value of $13.1 billion and compromise the largest economic sector by brand value, according to the report.
The banking sector follows with $8.5 billion in brand value from 12 brands, with the food sector being the third-most valuable sector ($3.5 billion from seven brands).
In addition to calculating brand value, Brand Finance also determines the relative strength of brands through a balanced scorecard of metrics evaluating marketing investment, stakeholder equity, and business performance. Compliant with ISO 20671, Brand Finance's assessment of stakeholder equity incorporates original market research data from over 100,000 respondents in more than 35 countries and across nearly 30 sectors.
According to these criteria, MBBank (brand value more than doubled to $642 million) is Vietnam's strongest brand, with a Brand Strength Index (BSI) of 87.1 out of 100 and a corresponding AAA brand strength rating.