Panasonic looks to become major healthcare solutions provider in Vietnam
Sat, September 17, 2022 | 3:40 pm GTM+7
Japan's Panasonic Corp. is committed to long-term investments in Vietnam and envisions becoming a major supplier of comprehensive health solutions over the next 50 years.
The corporation's Vietnam CEO Yoichi Marukawa outlined this vision at a business meeting in Hanoi between Prime Minister Pham Minh Chinh and the foreign corporate circle in the country.
Marukawa said the country's resilience and capability to recover from the pandemic had not only impressed and inspired him but also solidified Panasonic's confidence in Vietnam as one of its strategic markets.
"The impact of the pandemic fallout is not small, but Panasonic in Vietnam is recovering faster than others in Asia," he said.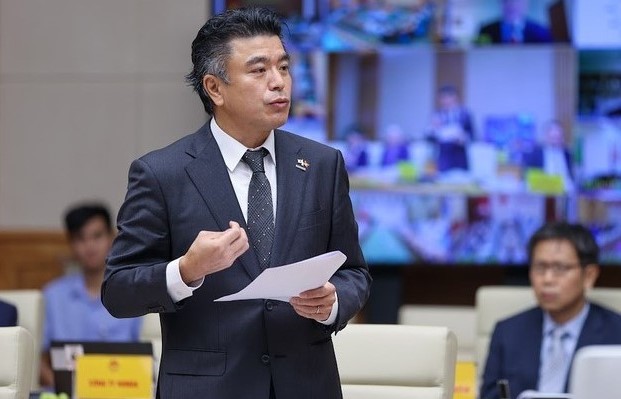 He noted that Panasonic was expanding its investment portfolio in Vietnam, including building a local product development system for wiring devices and lighting as well as indoor air quality (IAQ) systems.
It is in the process of setting up a research and development (R&D) center and manufacturing hub of IAQ products for Asian markets in southern Vietnam's Binh Duong province; and similar hubs for smart washing machines and refrigerators for Asian markets in Hanoi and nearby Hung Yen province.
In developing relationships with Vietnamese companies, Panasonic "will build an office inside the satellite building of the National Innovation Center in Hanoi to partner with Vietnamese startups," Marukawa said.
Over the next three years, Panasonic Vietnam expects to plant one million trees in the country as part of its environmental protection cooperation program with partners and customers, he added.
Marukawa tressed that Panasonic was still recovering and facing many serious problems like a shortage of raw materials and components, increasing transportation costs, pressure on environmental protection, and a global recession risk.
"We believe it is tough to overcome this difficult economic situation by simply expanding production or exporting, even with a clear strategic vision. Panasonic needs to be more aggressive in its business transformation to bring more value and improve its competitiveness, the same way that Vietnam is doing."
He asked the Vietnamese government to support Panasonic in the journey ahead and in training human resources in information technology and artificial intelligence.
Under this initiative, Panasonic will continue to assist educational activities for Vietnamese students through online seminars, or work directly with local schools through its Risupia model.
Panasonic Risupia Vietnam is a play-and-learn platform using the corporation's advanced audio-visual technologies to incorporate scientific knowledge into playing and learning models.
As of April 2022, Panasonic Vietnam Group comprises : Panasonic Vietnam; Panasonic Sales Vietnam; Panasonic Research & Development Center Vietnam; and four manufacturing companies - Panasonic Appliances Vietnam, Panasonic System Networks Vietnam, Panasonic Industrial Devices Vietnam and Panasonic Electric Works Vietnam. The seventh company is Panasonic Insurance Service Vietnam. The group employs over 7,000 people in the country.