Tan Son Nhat airport customs seize $1 mln in 'black money'
Fri, September 16, 2022 | 11:20 pm GTM+7
Two passengers apparently trying to smuggle more than $1 million dollars abroad in cash by dyeing $100 notes black were detained Thursday at HCMC's Tan Son Nhat International Airport.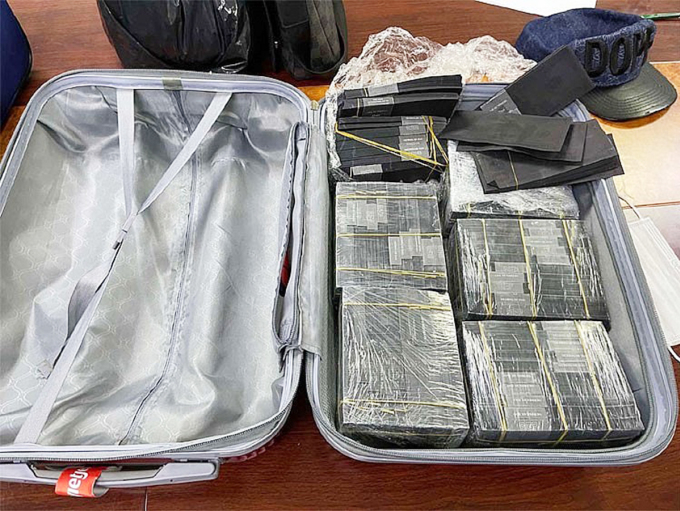 Customs officials at the airport said they were coordinating the chase with Tan Binh district police and Ho Chi Minh City's police to investigate the incident further.
Nguyen Huu Nghiep, deputy director of HCMC Customs, told The Investor that they were "verifying the incident."
Nguyen Tuan Nam, who has a doctorate in chemistry, told local media that it wasn't possible to confirm what substance the passengers had used to dye the money.
The sample needs to go to a laboratory with tools capable of analyzing it, like using another chemical to identify the substance or taking an X-ray image to assess its composition, he noted.
"But obviously, dyeing or blackening the money aimed to avoid detection by infrared machines when scanning. It looks as though this substance is likely to contain a magnetic carrier.
"In the science of invisibility there is mention of some materials that can jam infrared signals or some other types of waves. One of compounds known to be magnetic is nano-magnetic iron oxide (Fe3O4). Of course, such stealthy blacking would be easily bleached, even by using a dilute vinegar solution or ordinary detergent.
"It's like when you forget money in the pocket of clothes, after washing, the money is whiter, but its printed details are not blurred," he said.
On Thursday, through visual inspection of baggage screening images, customs officers at the airport detected suspicious signs and asked two Vietnamese passengers on flight VJ803 bound for Bangkok to present their luggage for physical inspection.
They found what appears to be 10,518 100 USD notes wrapped in nylon bundles. The notes had been dyed black and their serial numbers were not visible.