50 'road monsters' arrested after blocking highway for motorbike racing
Sun, September 4, 2022 | 7:24 pm GTM+7
Tien Giang traffic police arrested Sunday a group of 50 men and women who blocked a section of National Highway No.50 to organize an illegal motorbike race.
National Highway No.50 connects the Mekong Delta province to Ho Chi Minh City via Long An province. The blocked section stretched from Binh Dong ward to My Loi Bridge, both in Tien Giang.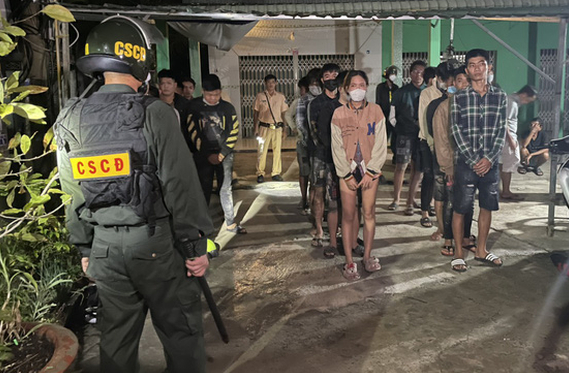 The police force seized 34 motorbikes of different kinds from Long An, Tien Giang and Ho Chi Minh City. Many of the seized vehicles were "tiger motorbikes" with powerful engines that can change their structure and shape for racing and towing.
Dozens of policemen swooped down on the racing scene at 3:30 a.m. Sunday as more than 50 men and women blocked the road and raced noisily in the dark night. They arrested 25 people as other "road monsters" abandoned their vehicles and ran into small alleys to escape.
The detainees told police that they had set up a closed group on social media to meet and race at dawn because they thought that "the police force would be busy regulating traffic during the national holiday".
The country is enjoying a four-day holiday on the occasion of the National Day, September 2.
The racers even assigned a person to stand guard in front of the police headquarters near the track so that he could alert the group if the police set out on patrol.
Illegal motorbike racing remains a problem for several localities in the country, disturbing social order and resulting in accidents, affecting even the police deployed to stop such events.